Meet our specialists
---
Dr Babatunde Buraimo is a Senior Lecturer in Sports Management and Director of the Football Industries MBA. He was educated at the University of Sheffield and Lancaster University, where he holds a doctoral degree in economics. Dr Buraimo specialises in sports management and economics and has published extensively on the economics of sports broadcasting, demand for sports, and economics of sports participation
---
David is the Director of Studies for MSc Sports Business, and teaches sports marketing, sponsorship, and global sports business. David's research investigates the nature of effect of sports markets, marketing practice, and consumption. David has lectured previously at the Universities of Huddersfield, Leicester, Shanghai (Science and Technology), and Tsinghua. David has also worked with a range of organizations including Tottenham Hotspur FC; Everton FC; Adidas China; Reebok; Huddersfield Town AFC; and the Rugby Football Union. David has spent much of his career abroad, working in China, the U.S, Spain, South Korea, and Thailand.
---
Neil joined the University in 2015 with responsibility for launching the Horseracing MBA, having previously studied the Football Industries MBA in 2009.
He has a background in senior sales and marketing roles for IT and Communications companies including Cisco Systems. Since completing the MBA, Neil has worked as a sports business consultant and worked on a range of projects, including for the Racing Post and Leaders in Racing and a leading Premier League
‌
---
David Forrest is an economist with expertise in both the sports and gambling sectors. He has published extensively in each of these areas and has authored several of the most highly cited papers in sports economics, including on topics such as audience demand, managerial change, referee bias and player labour markets. He is heavily involved in the fight against match fixing, working internationally with player unions, law enforcement, betting regulators and UEFA. Amongst his public service roles, he is a member of the Responsible Gambling Strategy Board, which advises the Gambling Commission and the Government about problem gambling issues.
---
Kieran is a lecturer in football finance, and has taught at a number of academic and financial institutions for over 20 years. He is a regular contributor on BBC TV and Radio, TalkSport, TRT World, ESPN, Premier League TV. Kieran has been interviewed by The Times, Financial Times, Sunday Times, The Independent, The Guardian, as well as regional and local newspapers in relation to current stories on football and sports finance, and sports broadcasting rights.

---
Ian's research interests lie in statistics in sport and the analysis of gambling markets and issues relating to gambling. Ian has consulted with, amongst others, football clubs, the Premier League, the Press Association, the Responsible Gambling Trust (GambleAware), the General Medical Council, and several bookmakers. In 2005, Ian created the EA SPORTS Player Performance Indicator, the official player ratings system of the Barclays Premier League. Ian is also behind the Sports Analytics Machine, SAM – a super computer that is used to answer the biggest questions in sport, and provides the BBC with predictions for matches in the Premier League.
---
Sue is Director of Studies for the MSc Sport Business and Management. Her teaching expertise is in the areas of leadership, sport operations and professional development. In addition to designing and delivering executive education programmes, Sue has published in a number of peer reviewed academic journals on graduate employability and careers, and managing change in elite sport. She is also a co-author of the Routledge textbook 'Human Resource Management in the Sport and Leisure Industry'. Sue is actively involved in grass roots sport as a community director/board member for Burnley Leisure Trust.
---
Dr Rick Parry‌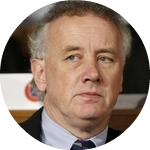 Rick was the founding CEO of the Premier League. He put in place the governance structures that have been the bedrock of the league's success and negotiated the first two TV deals.
In 1997 he moved to Liverpool FC, becoming CEO in 2000. In the next nine years the club won 10 trophies including the UEFA Champions League."

---
Dr J.D. Tena is a Senior Lecturer in Sports Business and Management. He has a BA in Economics and a Master from Universidad Carlos III. He gained his PhD from University of Newcastle Upon Tyne in 2004. After holding a post-doctoral position at the University of Tel Aviv (Israel), he has worked for the Universidad de Concepción (Chile), Università di Sassari (Italy) and Universidad Carlos III (Spain). His research mainly focuses on economics and statistics. He has a long experience as economic analyst and he has published intensively on different sport related topics.
---
Dan's research interests lie in sport business management and policy and has published in both these areas. He has a growing interest in examining social and economic networks in sport. Dan is the co-founder and editor of The Football Collective, a global network of football scholars. He has consulted with, amongst others, the English Premier League, the Football Foundation (UKs largest sports charity) and The English FA. He is the CEO of the Association of Sporting Directors and sits on the Advisory Group of The Sports Think Tank.