Excellent teaching environment
A city with business at its heart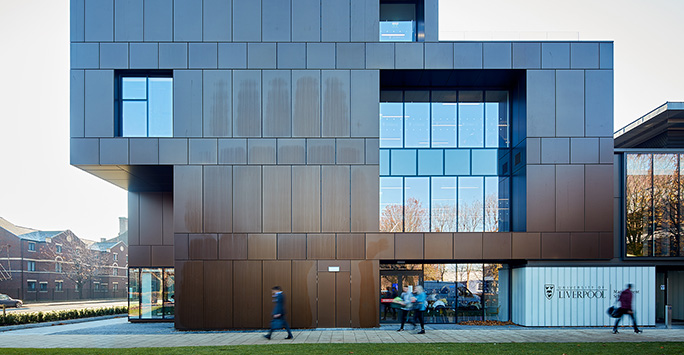 A dynamic research ecosystem
The University of Liverpool offers really unique opportunities to get involved in cutting-edge interdisciplinary research across multiple disciplines.
By joining the Executive DBA, you will become part of this live research environment and gain access to a number of professional networks which bring together students, alumni and faculty, to explore industry practice and the latest research in variety of industry areas.
The University of Liverpool Management School is a research powerhouse, with international experts shaping world-class academic thought, and making a direct impact on a wide range of organisations and institutions.
Our academic staff not only publish in leading scholarly journals but also conduct research programmes for companies and governments worldwide, focusing on growing enterprises, innovation and communities.
From developing sustainable procurement standards, to addressing farmers access to institutional credit in India and the impact of gambling on consumers, our research projects address key issues affecting the world.
The School's research strength has been recognised in the latest Research Excellence Framework (REF 2021), where it was positioned 17th among 108 ranked business and management schools across the country.
Over 90% of research classified as 'world leading' (4*) or 'internationally excellent' (3*)
100% of research supported by a 'world leading' (4*) or 'internationally excellent' (3*) environment
9th place for research power, which considers strength in numbers of research staff and research performance
The Management School supports pioneering research through its research centres, by facilitating funding and bringing together interdisciplinary researchers to shed light on contemporary issues in business and society, and provide actionable insights for organisations and policymakers.
---
Excellent teaching environment
The University of Liverpool is part of the Russell Group of Universities, acknowledged as the UK's leading establishments for excellence in teaching and research.
The University are pioneers in online education, with over 10 years' experience delivering distant learning.
The Management School is among the 1% academic institutions across the world to hold the gold standard triple accreditation from the Association of MBA's (AMBA), the Association to Advance Collegiate Schools of Business International (AACSB) and EQUIS.

This means the School has demonstrated the highest standard in educational experiences, including faculty, staff and facilities, in the three most rigorous quality assessments for business and management schools.
---
A city with business at its heart
Liverpool is a vibrant city, with a burgeoning business ecosystem.
As city that has become famous for its commercial influence and cultural impact worldwide, Liverpool is the perfect place to bring business teaching, research and practice together.
Liverpool's entrepreneurial and creative spirit is fuelling a boom in business start-ups, and also attracting many global businesses which have made our city their home.
Voted the fourth friendliest city in the world by Rough Guides, Liverpool is a wonderfully welcoming place, and our University shares and shape the city's spirit by opening our doors to learners from all walks of life.
Liverpool is a warm, welcoming and full of character city, home to nearly half a million people, and well known for its influence on art, music, sport and culture.
Our city has a rich and exiting cultural scene, with more galleries and museums than any other UK city apart from London.
As an Executive DBA student you have the option to attend four in-person residencies, which will give you the opportunity to experience all the exciting things happening on-campus and discover our fantastic city.
Back to: Management School