Format: part-time
Delivery: hybrid
Starting in: September 2023
Duration: 4.5-7.5 years
Timeline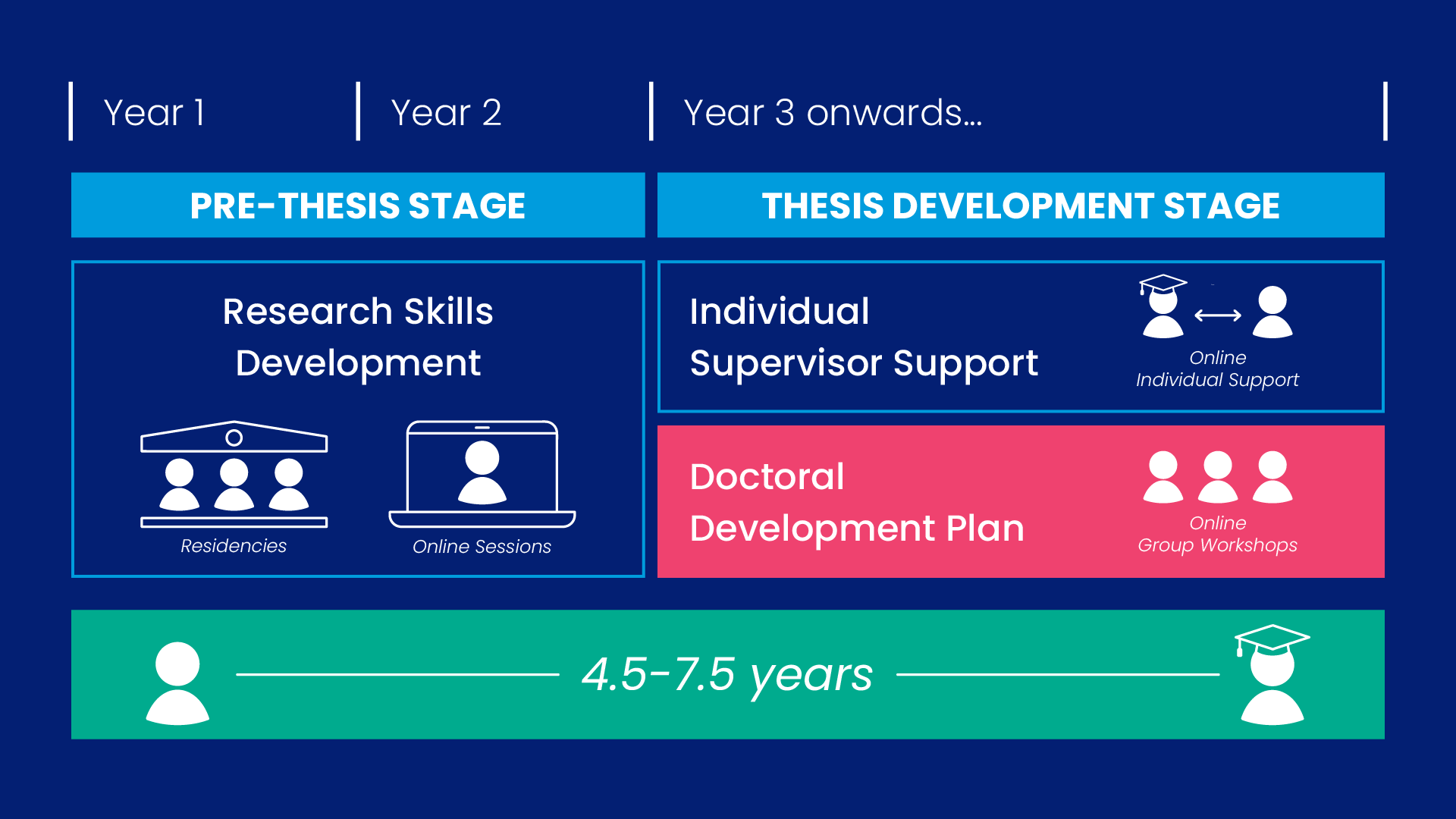 The Executive DBA is structured in two stages:
STAGE 1 - Pre-thesis stage
During the pre-thesis stage students will complete four modules aimed at developing their research skills (go to modules).
This is an intensive 2-year period which combines four on-campus residencies with online learning sessions (see teaching section).
After completing the Stage 1 of the programme, students will gain 180 credits at Level 7.
STAGE 2 - Thesis development stage
During the thesis development stage, students receive regular one-to-one online support from their individual supervisor.
In addition, students are provided with continuous research skills development through two new Doctoral Development Plan modules.
During these sessions, students have access to group seminars and refresher workshops on different methodologies and aspects of the research process.
The goal is to build capability and capacity, for students to be able to deploy these skills, not only in their thesis workplan, but also to continue doing this after graduation.
The doctorate is awarded once students have completed Stage 2 of the programme, which accounts for 360 credits.
Timeframe
The whole process can be completed in 4.5 years, however, we understand unexpected personal or professional situations can affect our students' progress.
If needed, students are allowed up to 7.5 years to finish the programme.
---
Modules
The taught stage of the programme (pre-thesis) comprises four 45 credit modules distributed across two years:
Modules year 1
Key topics
Credits
Introduction to doctoral research

Philosophy of management research
Conceptualising and problematising
Leadership and scholarly practice

45
Working with literature

The function of literature in a DBA thesis
Concepts, theory and theory-building
Enquiry questions and management actions

45
Modules year 2
Key topics
Credits
Research methods

Evaluating and executing research methods in business and management
Qualitative research methods
Quantitative research methods

45
Designing scholarly practitioner research

Researching with integrity
Constructing research designs
Explaining and justifying research designs

45
In order to progress to Stage 2, students must:
Complete all four Stage 1 modules
Achieve a minimum mark of 60 in their 'Research Proposal' assignment, as part of their 'Designing Scholarly Practitioner Research' module
Students who pass the taught modules, but do not meet these requirements will exit the programme with a Postgraduate Diploma in Management Research Methods.
---
Teaching
The Executive DBA is delivered in a hybrid format, combining on-line sessions with on campus residencies.
Online sessions
The University of Liverpool are pioneers in online education, with over 10 years' experience delivering distance learning.
Online sessions and the part-time format of the programme, have been designed to allow working professionals to study while fulfilling their job commitments.
On-campus residencies
There are four on-campus residencies programmed across the pre-thesis stage of the programme (first two years).
All on-campus residencies take place during weekends, with students invited to lectures with academics and guest speakers, group workshops and networking events.
These face-to-face Liverpool based sessions bring essential value, as they give students the opportunity to discover the university's research ecosystem.
The University offers really unique opportunities to get involved in cutting-edge interdisciplinary research, and by coming to Liverpool students can connect with researchers from other disciplines, discuss potential ideas for collaboration and discover new projects supported by our research centres.
Students are part of this live research environment and coming to the city means they can learn from their colleagues and experience all the exciting things happening on-campus.
In-person attendance to these residencies is not compulsory, and if unable to come to Liverpool, students can still take part remotely.
Back to: Management School