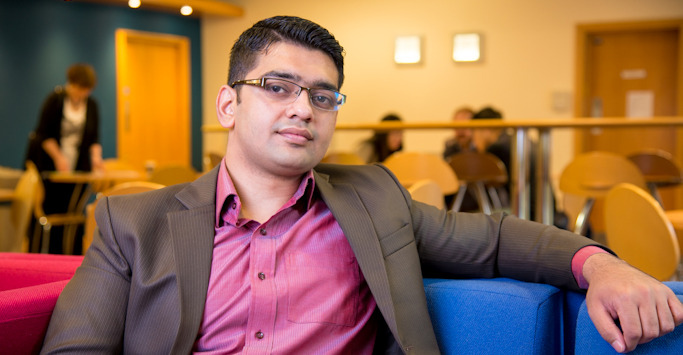 Salman Ahmad: Pakistan
MSc International Business Alumnus 2013-14
PhD candidate and President of the GADE Foundation
Before starting my MSc Study, I was working as President of the GADE Foundation. I established the GADE Foundation in Pakistan in 2011 to create an entrepreneurial culture among young people. This year I was honoured to be presented with the Queen's Young Leaders Award.
While working as President in GADE Foundation, I realised that it is very important to have a global understanding of business characteristics and trends. This prompted me to look into further study and I came to the conclusion that MSc International Business at the Management School was the perfect match for my objectives.
Among several great features, the programme offers an in-depth understanding of current theories and practices in the private and public sectors around the world. This is particularly important to me as a student from a developing country.
I believe studying MSc International Business has equipped me with modern analytical and interpersonal skills. Moreover, by combining specialised theory with hands-on research, I have gained critical work experience. Being part of a challenging educational environment has liberated me and allowed me to explore a wide array of subjects including entrepreneurship, economic development and enterprise management. I have also grown into a person with leadership qualities, who is able to question and challenge in order to do all I can to contribute towards the sustainable economic development of my country. Therefore, I am confident that these skills will enable me to create more impact for economic development in Pakistan through my leadership role at GADE Foundation.
I have really enjoyed being a student at a truly global University. For me, the most important thing about Liverpool is its accessibility. I have mobility limitation but during my stay in Liverpool I found myself completely independent and I could enter any public building without fear of accessibility issues. The people of Liverpool are also very supportive and try their best to help you.
Postgraduate study from the Management School has helped me to broaden my understanding about global differences and emerging opportunities. This together with my past experiences in social enterprise, entrepreneurship and small business management, has prompted me to apply for a PhD at the Management School that focuses on entrepreneurship.