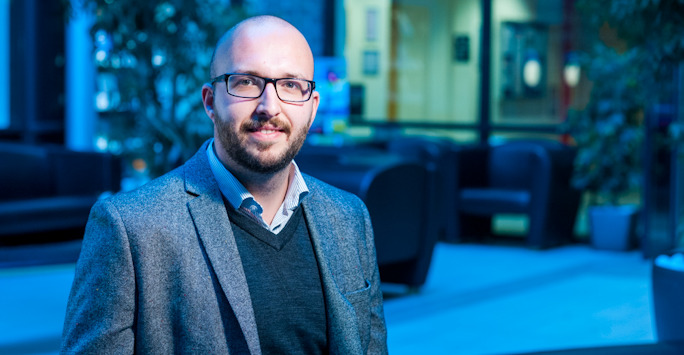 Michael Nogolica: Germany
MSc Digital Business Enterprise Management Alumni 2013-14
Enterprise Resource Planning Consultant
My current role is an Enterprise Resource Planning Consultant (Microsoft Dynamics NAV) for a company called "YAVEON AG" in Germany. We serve the chemical, pharmaceutical, food, cosmetics and medical industry with customized ERP products. We also provide business and process consulting as well as Business Intelligence and Electronic Data Interchange.
After my bachelor's degree, I decided not to continue right away with postgraduate study. Instead I gained work experience as an online marketing consultant. This allowed me to learn about various areas of online marketing activities. This involved analysing the usability of websites and the examination and improvement of software technologies in the hotel and tourism sector.
When I did decide to resume my studies, I wanted to study an MSc that would broaden my knowledge in a technical and supply chain-focused area. This prompted my decision to study MSc Digital Business Enterprise Management (formally e-Business Strategy and Systems). The University of Liverpool Management School holds a leading position in the field of Digital Business and the close contact with industry with its focus on the cooperation with SAP made my choice easy. The outstanding structure of the programme and the unique combination of contemporary digital business topics in general (digital business systems and technology as well as strategic topics), convinced me to apply for this programme.
Another major reason to study in Liverpool was the city itself. I visited Liverpool as a weekend trip in 2011, where I fell in love with the vibe of the city. Moreover, the connection to major airports made it easy for me to travel home to Germany.
Next to the academic and practical knowledge I gained whilst studying my MSc, the most valuable skill I developed is a higher self-discipline and intercultural competence. Studying with people from all around the world, the Management School offers a unique and interesting study environment. Studying in such an environment has helped me pursue an international career, allowing me to work abroad and build up a worldwide network.
After graduating, I have had a successful transition into the commercial environment. Working as an ERP consultant, I've been able to effectively combine all the skills that I gained during my studies at the Management School.