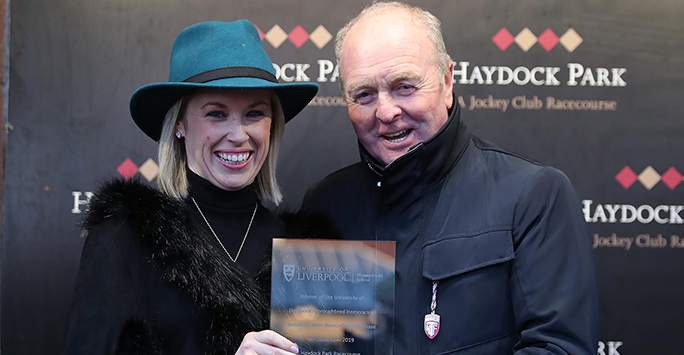 Fiona Dowling
Thoroughbred Horseracing Industries MBA, 2019
What were you doing prior to MBA study?
I had quite a lot of experience in the horseracing industry both nationally and internationally. Although I had plenty of industry experience, I could see that my CV was lacking a higher level of qualification.
I started a new job as a Horseracing Lecturer at Hartpury University in Gloucestershire at the same time as starting the MBA.
---
Why did you decide to study THIMBA at the University of Liverpool?
I wanted to study an industry-focussed qualification as I wanted to remain working and progressing in horseracing. I felt that the THIMBA course would suit my interests whilst also providing me with relevant business content. I also am a big fan of Liverpool and travel up to Aintree on an annual basis!
---
What aspects of the programme did you most enjoy/find most useful?
I found the business modules more enjoyable than I expected and learnt a great deal from these. I have found that I am applying elements from these modules to my work on a daily basis.
The networking was fantastic and I have made great friends for life. We are continuing to keep in touch and meet up on a regular basis.
In terms of the horseracing content, I found the Horseracing Law module fascinating and a good opportunity to explore the rules of the sport.
The media training that we received from the 'Developing as a Horseracing Executive' module was testing but a good challenge and would be beneficial for any management role.
---
How did you manage to juggle MBA study with work commitments?
I think starting assignments as early as possible is key to managing both work and study commitments.
It can be stressful studying and working however, once I got into the swing of the MBA I found it easier to balance everything. You certainly learn to organise and prioritise a little more efficiently.
---
Where are you working now, what is your job title and what does your role entail?
I work as a Horseracing Lecturer and Industry Liaison at Hartpury University. My role involves teaching (both classroom and practical), creating content, liaising with industry and organising trips and guest lectures for students. I also ride out part-time for National Hunt trainer Fergal O'Brien.
---
Do you feel the MBA has helped your career progression?
Certainly, I have already progressed in my role at Hartpury and I feel far more confident in myself as a person and my experience since completing the MBA.
I recently presented my dissertation at the London Horseracing Conference and that is something I would have really struggled with before I started THIMBA.
---
What skills and knowledge do you feel you developed?
I have improved my business skills and understanding of concepts such as strategic management and operational efficiency.
I am far more confident in my presenting skills and challenging existing theories.
Overall I have much more weight in my own ability and I hope that this will help me to continue my progression in the future.
The MBA is demanding and hard work but I feel it's given me a tremendous leg up in the industry and I would certainly recommend it to anyone passionate about horseracing wishing to progress.