Background
Professor Jo Meehan, Dr Laura Menzies, and Dr Bruce Pinnington's body of work has resulted in a fundamental reframing of how, and when, beneficiaries, cost, and value are considered and managed in public procurement. The research has won awards from IPSERA (best healthcare procurement paper, in 2016 and 2018) and from the Journal of Purchasing and Supply Management (best published paper in 2016) and has been at the forefront of national procurement policy debates about why existing procurement methods were not fit-for-purpose in emerging market contexts, why it mattered, and crucially, what to do about it.
From 2014, the research led Professor Meehan was conducted in partnership with Procurement for Housing (PfH), part of the Inprova group, to explore the impacts of procurement consortia on the UK's social housing sector, and from 2015, with the NHS. PfH provide procurement services to approximately 1,000 social housing organisations that collectively manage 3.9m of the UK's 4.1m social housing properties. Working with PfH's senior leadership team, new avenues for value creation were developed.
Research
The research challenged the value delivered through the dominant 'compliance' focus to regulated public procurement and asserts the centrality of both economic and social value. Contrary to conventional views that these are contradictory, sustainable procurement considers their mutual complementarity, offering opportunities for national purchasing organisations to substantially improve the extended value delivered through procurement. Public sector environments have historically been shielded from commercial realities in their procurement decisions and the research explores why this has resulted in procurement's low status despite spend profiles of national economic importance.
The research identifies the transformative potential of procurement data enabling PfH to develop novel collaborative and data-led procurement services to the social housing sector centred on long-term value. Professor Meehan and Dr Pinnington's research identifies the critical micro-foundations of value destruction within strategic supply-side management practices and was critical in developing appropriate relationship and contract management structures to enable benefits to be sustained.
Impact
As a result, PfH changed their business model and procurement processes setting VbP as the new procurement standard for social housing. The changes reach 90% of the UK's social housing market and have delivered procurement savings totalling £102m for over 1,000 housing organisations. Consistent with the central logic of VbP, financial savings have led to significant social benefit to improve tenants' lives. PfH's customers - social housing organisation – have been able to reinvest savings to fund diverse schemes in their own neighbours including employability projects, housing improvements, and building of new social housing, and rent reductions for tenants.
Professor Meehan and Dr Menzies extended the VbP research into the NHS context from 2015, putting system-level patient outcomes at the heart of procurement decisions alongside an explicit recognition of the barriers stemming from political decisions and public policy. In the NHS, the research has formed the basis for over 100 workshops, strategy meetings, and away-days to policy working groups, procurement staff, and suppliers. NHS England and NHS Wales are both adopting VbP recommendations arising from the research. As a result, they are transforming their procurement processes resulting in reducing healthcare costs, increasing service capacity, and improving clinical outcomes for patients across their respective procurement spend of £6.6bn and £880m.
Ongoing Research
The VbP research is continuing with the NHS to incorporate core sustainability measures. As shown in the team's earlier research, VbP already offers a great mechanism for environmentally responsible purchasing, through reducing demand for new manufactured products and reducing waste. The team's new research will explore how non-financial aspects of sustainability can be accounted for in sourcing and contracts decisions.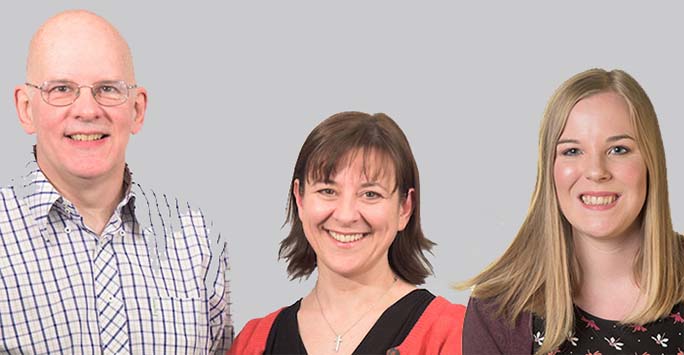 Professor Joanne Meehan, Dr Laura Menzies and Dr Bruce Pinnington
Back to: Management School