Hosted by Vrije Universiteit Amsterdam
Department of Organization Sciences
Wednesday 23 - Friday 25 August 2023
---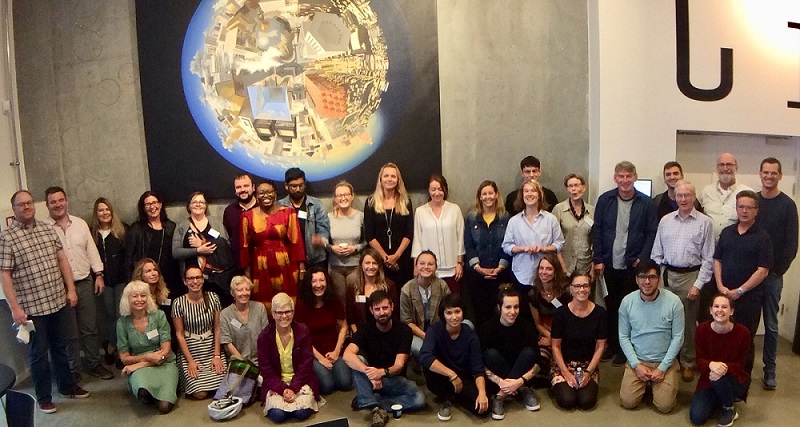 ---
Conference Co-Chairs: TBC
Dr Harry Wels, Vrije Universiteit Amsterdam
Dr Frans Kamsteeg, Vrije Universiteit Amsterdam
Dr Tom Vine, University of Suffolk
Dr. Anna Galazka, Cardiff University
Dr. Abigail Schoneboom, Newcastle University
---
Confirmed Keynote Speakers:
William Ellis on thinking like a plant (University of the Western Cape)
Leonie Cornips on thinking like a cow (Maastricht University)
---
Call for Papers
'Doing ethnography' requires immersion in a field and a good deal of empathy. Ethnographers always need to try to think like ….. whatever the subject of their fieldwork is, and subsequently try to make sense of their subjects' thinking (and doing), increasingly together with these subjects themselves. Ethnographers study all sorts of people and contexts, from company offices to street gangs, in faraway places or just around the corner. But the ethnographic imagination doesn't stop at humans and their contexts.
From Seeing like a state (Scott, 1998), ethnographers have increasingly sought to think like non-human agents, for instance in multispecies ethnography (Tsing 2015; Kirksey 2015). They even move beyond sentience, trying to 'think like things' (Latour 2020). The classic ethnographic adage of immersion and distancing (Ybema et al 2009) has clearly met new frontiers to cross, and this is exactly the challenge we want to address at this year's symposium. We invite you to explore conceptually, methodologically and practically how ethnographers (can) go about their major challenge, which is 'thinking like'.
This theme explicitly invites ethnographers who explore the boundaries between academic and literary writing styles, as John van Maanen already suggested in his Tales of the Field (1988). In his Lives of animals, Coetzee (1999) argues that '… there is no limit to the extent to which we can think ourselves into being of another. There are no bounds to the sympathetic imagination' (Coetzee, 1999: 35). On plants, Calvo (2022: 161) writes: 'If anything might allow us to shift our frame of reference (…) to enter the mental states of a wildly different creature, then developing an intimate relationship with them is probably one of the most powerful'.
Although James Lovelock (1979) in his Gaia Hypothesis strictly argues in terms of chemistry, he too interprets 'lifeless data', reimagining planet earth as a single organism. Likewise Simard (2021) and Kohn (2013) think beyond the human, bringing complete forests to life. In her work on cyborgs, Donna Haraway went as far as to problematize the boundary between humans and technology (see also Vertesi, 2015). Beyond the classic organizational ethnographic predicaments of thinking 'of, 'for', or 'with' the field (Neyland 2007), today the fundamental question of 'thinking like' seems to be posed more loudly than ever.
Fellow ethnographers, in your fieldwork, how do you try to 'think like'…..?
We welcome papers from any disciplinary background on any theme, provided ethnography is invoked. We particularly invite papers that also address the themes of:
failures in ethnographic research;
creative methods;
decolonizing ethnography; and
ethnographies of climate crisis.
---
Submission Details
Abstracts (up to 500 words), should be submitted through EasyChair by clicking here, by Friday 21 April, 2023. Decisions on acceptance of papers, subject to external refereeing, will be provided by e-mail.

All abstracts and full papers received prior to the conference, and no later than Friday 4 August 2023, will be circulated electronically to delegates.
---
Best Paper Award
This year, the Symposium will again be running a Best Paper Award, co-sponsored by Emerald Publishing, the publisher of the Journal of Organizational Ethnography with which this conference is affiliated. This award will be made at the Symposium to a paper selected from among the full papers submitted. When submitting a full paper, please indicate whether you wish your paper to be considered for the Best Paper Award. Submission for the Best Paper Award should be via e-mail to ethnographyamsterdam2023@vu.nl by Friday 4 August 2023. A submission to the Best Paper Award will be treated as an intention to publish the paper in the Journal of Organizational Ethnography.
---
Alternative submissions
We would like to encourage all doctoral students to present a poster. This might be in addition to the submission of a paper and perhaps cover a different aspect of your research. Should you wish to use innovative forms and technologies, please contact us.
---
Symposium attendance fees, accommodation and registration
Attendance fee for delegates in full-time employment - early bird rate - €375
Attendance fee for delegates in full-time employment - €400
PhD students and doctoral research graduates, postdoctoral students in part-time employment, retired and unemployed - €255
The attendance fee includes access to all symposium abstracts, papers, proceedings, daytime refreshments and lunches, a drinks reception on Wednesday 23 August and the informal Dinner on Thursday 24 August.
---
Enquiries
Queries regarding this conference can be made to ethnographyamsterdam2023@vu.nl.
All information will be regularly updated on the VU Amsterdam conference website.
Follow us on Twitter: @ethnography_lk and #ethsym23

We look forward to welcoming you to Amsterdam in August 2023!
Back to: Management School