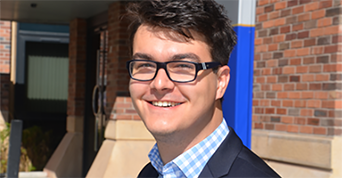 József Birgés: Hungary
MSc Entrepreneurship Alumnus 2014-2015
I chose MSc Entrepreneurship at the Management School as the University of Liverpool is a prestigious Russell Group university and the Management School has achieved AACSB accreditation. The Management School is constantly developing and has an excellent reputation in Europe.
Even though the programme was more related to start-up companies and SMEs, the transferable skills and the business knowledge that I have gained can help me in the cooperate word with things like strategic/critical thinking, creative problem solving, and task management.
I believe I've gained a very firm business knowledge from this programme that I will be able to use in the future in various positions and in my own company. As the Management School has a great reputation as a leading business school, I'll have a good chance to enrol in an MBA programme in the future.
The MSc Career Advisor offers many useful services for students. I found the one to one consulting sessions particularly helpful to look at my career plan and improve my CV. I could be confident during my assessment centre, since the Careers Advisor provided me with information on what to expect, how to prepare and how to perform at my best.
Liverpool is a great city. It offers everything that a student would need: culture, museums, restaurants, pubs and nightlife. It's quite close to major cities so it is easy to visit other places as well. However, what I have enjoyed the most was the campus of the University. It has a vibrant and unique environment that I will never forget.