Sport Integrity seeks to enhance understanding of the sources of match fixing and to inform and assist in appropriate anti-corruption policies by stakeholders such as sports leagues, gambling regulators and law enforcement. Impact includes:
an evaluation of processes employed by UEFA and FIFA led to the researchers providing evidence in Court proceedings and subsequently to, e.g. the exclusion of a club from the Champions League
development of policy at national/international level, e.g. through reports for, and funded by, The European Commission
work with EU Athletes (European federation of player unions) in the design, delivery and evaluation of anti-corruption programmes.
Background
Match fixing has become commonplace. There has been a great increase in liquidity in betting markets allowing criminals to make more profit from fixing. This has drawn organised crime to attempt to manipulate matches on an industrial scale, threatening sport integrity. Several actors including governing bodies, player associations, betting regulators, police and governments seek to understand this threat and establish counter-measures. The Macolin Convention mandates signatory countries to establish National Platforms for combatting fixing, requiring cooperation between these stakeholders.
Research
Professor McHale developed tools to rate individual football players and estimate the importance of a player to a team. In additional work, Professor McHale also developed probabilistic forecasting models (for use both pre-play and in-play) for the outcome of football matches. These models form the basis of tools used to provide benchmark probabilities of match outcomes to which the observed market odds published on betting websites are compared. Using information from the player ratings system, the efficacy of prediction models is improved and the expected impact of changes to team line-ups can be estimated. It is imperative that the accuracy of the match outcome forecasting models is high since the primary signal of corruption is when the forecasting model differs from the betting market. If this is the case, monitoring systems flag the divergence between the market and the model and the match is subsequently investigated for suspicious betting activity. Moreover, Professor Forrest and Professor McHale bring their research together and present a process for monitoring betting markets using forensic statistics in order to detect corruption in sport.
Impact
The University of Liverpool Management School (ULMS) was a partner with IRIS (Paris) in producing a report for the European Commission on how to keep betting crime-free and in conducting seminars with senior officials from the country's police, sports ministry, betting operators and the regulator, and leaders of sport in fourteen EU states. Professor Forrest furthermore has given invited briefing sessions on sources of fixing to stakeholders at national/international levels, including CEOs of European gambling regulators; Britain's Sports Betting Integrity Forum; representatives of various national football governing bodies and the Gambling Commission and the International Association of Gaming Regulators, reaching more than 100 regulators' staff Worldwide. Professor Forrest was also a staff member for the EU Athletes' PROtect Integrity project funded by the European Commission under the Erasmus+ programme. The project delivered anti-match fixing education through player union officials, who had received training designed by project staff and Interpol. It reached nearly 15,000 elite athletes in fifteen countries/ ten sports.
At the request of UEFA, Professor Forrest and Professor McHale conducted and published a technical evaluation of the Fraud Detection System for identifying potentially manipulated matches in European leagues and elsewhere. Professor Forrest also appeared as witness in a case at The Court of Arbitration for Sport (CAS) where a club identified as having been involved in fixed matches, was challenging UEFA's decision to exclude it from the Champions League. The Court Judgement focused on the validity of the betting analysis, i.e. on the application of forensic statistics. The Panel upheld the action against the club: it "adheres to the unrebutted findings of Professors. Forrest and McHale and finds that the conclusion reached in respect of the club are fully justified" The Decision was regarded as "a landmark decision in the battle against match fixing" (Inside World Football, 27/1/2017).
Professor McHale was a witness in a subsequent hearing at CAS where a referee was appealing against a life ban imposed by FIFA for fixing a World Cup qualifier by egregious decisions. The case was based on associated movements in betting odds, not on physical evidence. Professor McHale assessed the quality of the evidence for the Court. The Court supported the life ban and, in response to the decision, FIFA ordered the match to be replayed.
Ongoing research
As part of ongoing engagement of ULMS with the fight against match fixing, Dr. Buraimo and Professor Forrest were staff members in a European Commission programme to roll out whistle blowing facilities in a selection of sports, including English and Irish rugby, Spanish men's and women's futsal, Danish handball and Greek volleyball. Their role included formal evaluation of the likely effectiveness of the new reporting mechanisms. Following their Report, UEFA formally recognised the new reporting mechanism and recommending its use across European football.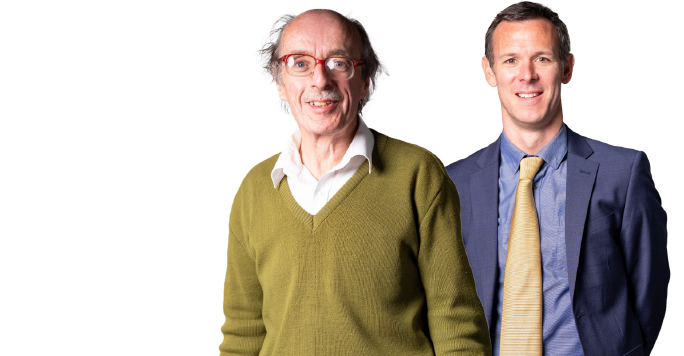 Professor Ian McHale and Professor David Forrest
Back to: Management School