Problem gambling represents a significant public health issue and is associated with serious social harm. On the other hand, gambling is one of the largest industries in the leisure sector, attracting participation from more than half of British adults and generating substantial profit and tax revenue. Public policy continues to focus on what levels of restriction on the gambling industry are appropriate and how harm resulting from gambling can be minimised. The impact generated by this research includes:
informing policy in the UK and other jurisdictions
interacting with the regulatory structure to support decision-taking
communicating research findings to Government.
Background
Gambling attracts participation by more than half of British adults. For most, it is a benign leisure activity; but a minority experience significant harm from gambling, with consequences also for their families and the wider community. Continued tolerance of easy access to gambling is likely to depend on serious efforts to mitigate harm being put into place. There is increasing application of statistical techniques, most readily applied to online customers, to flag those whose patterns of play are suggestive of problem gambling and harm, so that interventions may be initiated.
Research
Professors Forrest and McHale began research into issues around problematic gambling in 2012 when they published research on adolescent engagement in gambling. Their attention turned to adult gambling in 2016 when they were commissioned by GambleAware to undertake econometric research into understanding the behaviour of casino customers whilst betting on slots machines and table games. Since then the researchers have published new research on modelling and detecting loss chasing behaviour among casino customers, and the efficacy in reducing problem gambling of using a "nudge" policy whereby bookmaker machine users were required to register their play at a counter before placing a high stake. Subsequently, the focus of the research returned to young people in a paper examining how parental engagement in gambling whilst an individual was a child goes on to shape the engagement in gambling of the individual once they reach young adulthood.
Impact
The researchers have been commissioned by GambleAware (previously known as the Responsible Gambling Trust) to undertake research on five occasions. GambleAware administers a research programme determined by the Gambling Commission and its advisors. For instance, the researchers investigated a range of issues regarding the general patterns of play and the behaviour of gamblers. Following this publication, the authors have each been requested to participate within the regulatory structure in the development of algorithms to detect problem gambling with British operators. Work advising two of Britain's highest profile casinos, the Ritz Casino in London, and the Hippodrome (Britain's busiest casino), has begun, to devise tools for identifying problematic play amongst their customers. A second piece of commissioned work received considerable attention as it was an input into the Review of bookmaker gaming machines ordered by the Department for Digital, Culture, Media and Sport. Its findings were summarised in detail for parliamentarians in a House of Commons Library Briefing Paper. Gambling Commission formal advice quotes findings from Professors Forrest and McHale in its findings.
Ongoing Research
Since 2015, Professor Forrest has been a member of the Responsible Gambling Strategy Board which advises the Gambling Commission and the Department for Digital, Culture, Media and Sport on national strategy for minimising gambling-related harm. In 2018, a third report was commissioned for the authors to investigate the influence of the gambling habits of mothers and fathers on a young adult's engagement in gambling. Also in 2018, the Gambling Commission asked the researchers to investigate play amongst online gamblers in the UK.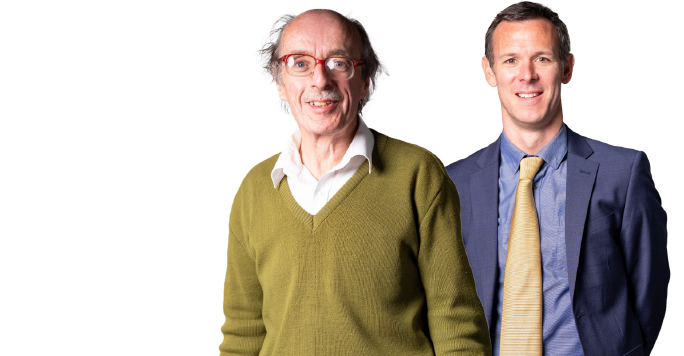 Professor Ian McHale and Professor David Forrest
Back to: Management School