Liverpool Law Clinic's Jo Bezzano wins Partnership of the Year 2019 at the Liverpool University Staff Awards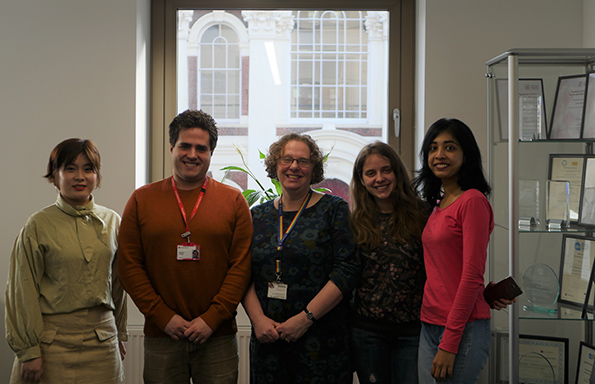 Liverpool Law Clinic's in house solicitor and lecturer, Jo Bezzano, has won Partnership of the Year 2019 at the Liverpool University Staff Awards 2019 for her work with the British Red Cross on supporting victims of trafficking in the UK and providing legal assistance.
The Liverpool Law Clinic worked closely with Matthew Young, the North West anti-trafficking officer for the Red Cross, who approached them in 2018 with concerns that victims of trafficking were unable to get the legal advice and representation they needed. It was clear that there were people who needed help with understanding and navigating the government systems to protect victims of trafficking and also with their immigration problems.
Jo has discussed her experience of working on this project below:
We agreed to start working with the Red Cross in the autumn term. We were able to do this because of our existing strong immigration practice built up by my colleagues Sarah Woodhouse and Judith Carter. We started with a group of students and interpreters and initially tried to concentrate on 'early advice'. This was to help people to understand the system before they entered it and in the early stages. It soon became clear that there was a need for advice for people with much more complex cases. These were people who had been let down by the system. Some had been in the UK for quite long periods and had criminal convictions.
We have seen some success. Around a year from starting the project one of our clients, who had come to us with a very complicated case, was recognised as a refugee and the CPS stopped a criminal prosecution against her. In another, a young man who the Home Office had previously failed to recognise as a victim of trafficking was successful in that his case was reconsidered. He is now receiving support as a victim of trafficking.
Students work on the cases in the Clinic. They attend client interviews, work through evidence and papers, identify evidence we need to get and do research. Through this work they are exposed to some serious Home Office failings.
We started the project because of the serious problems that victims of trafficking have in finding good quality legal representation. This often makes it very difficult for a victim of trafficking to put his or her case properly. The can lead to imprisonment, unsafe convictions, immigration detention and deportation or removal. In many cases it means that people remain in the UK with no immigration status and become victims of the "hostile environment". The legal aid system is failing to meet the needs of this client group. The trafficking project has, in part, been filling legal aid gaps. We know we can only reach a fraction of the people who need legal advice but can't get it. We are uniquely placed as a University to combine legal practice with research to look at the systemic problems. Dr Samantha Currie is working with is to look at Home Office decision making and the impact of legal representation. We have funding for a research project on legal advice provision for victims of trafficking in the North West and East Midlands. We are working with the Red Cross, the Anti Trafficking and Labour Exploitation Unit (ATLEU) and the 'Rights Lab' at Nottingham University on this.
The partnership has been successful because we had a clearly identified need and a good match of skills and resources to meet that need. Matthew Young of the Red Cross has excellent links in the North West and is part of the local Modern Slavery Partnership. The Red Cross is a well-known organisation and is often the first point of contact for people who may be victims of trafficking. We have immigration expertise and good links into the regional and national legal and policy specialists doing this work. We also have students who are prepared to put in the hours needed to painstakingly work through Home Office records and other material. We have a group of international, EU and home students who we have trained as interpreters. These students contribute their time and language skills by interpreting for client appointments.
The Clinic has received charitable funding to help establish our immigration practice. Without this funding and the support of the Department we wouldn't be able to do this work. We have also been given a high degree of autonomy by the Department which has meant we are able to respond to requests and opportunities quickly. In the case of this partnership with the Red Cross it was a few weeks between the initial approach and the project being up and running.
The Liverpool University Staff Awards 2019 celebrates and recognises the achievements of staff across the University. Other colleagues who were shortlisted for an award were Liverpool Law School's Dr Sean Columb, who was nominated for the Alan Beeston Early Career Researcher of the Year Award, and the Dean of the School of Law and Social Justice, Professor Debra Morris, who was nominated for Inspirational Leader of the Year.