International Women's Day 2020 Spotlight: Deborah Tyfield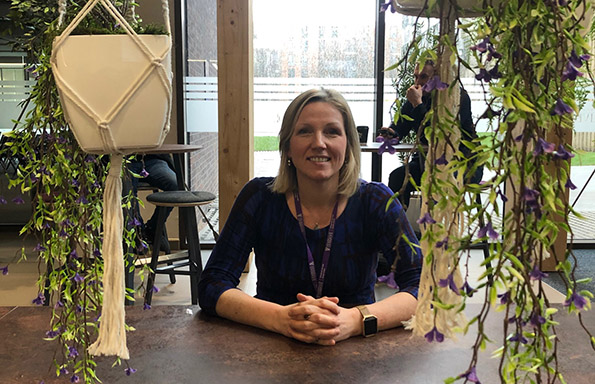 To celebrate International Women's Day 2020, for the week leading up to IWD (8th March) we will be spotlighting a different female colleague in the School of Law and Social Justice each day on our news stories page.
Today's spotlight is Deborah Tyfield, an in house Solicitor at the Liverpool Law Clinic and Lecturer in Law. Deborah joined the Liverpool Law Clinic in 2016 and teaches on the Clinical Legal Skills module. She is practising solicitor and has worked in both local government and private practice. She specialises in Special Educational Needs and social care for children.
1) Tell us about yourself, how long you have worked at the University and what your research interests are:
I have been with the Law Clinic since August 2016 working as an in-house solicitor and lecturer. We teach students through real cases and clients we work with. My students have the opportunity to research a brand-new area of law and then advise a client in writing about their case and the law. My cases are parents seeking advice about children with special educational needs.
2) Tell us about your research/ a project you're currently working on?
In my clinic work I was noticing themes throughout Merseyside about support for children with disabilities amongst my clients. This is reflected more broadly across the country. The nature of my role means that I can develop research projects from the themes I see emerge in this way. I have recently worked with two colleagues to investigate the experiences of parents trying to get services for their children in Merseyside. We interviewed parents and gathered data to enable us to make findings and recommendations about how the process can be improved.
3) What inspired you to get into your research area?
From early on in my time at the Clinic it was very clear there was desperate need for education law advice in the city. I was focusing on social care but I am a public law lawyer and have worked as a legal aid lawyer and a local authority lawyer, I therefore have a good foundation in public law and decision making.
In 2016 I began to offer special educational needs advice and the majority of my clients are seeking advice in this area. Access to education is absolutely fundamental, and every child has a right to education, but this is not always the case. I see clients whose children have been out of school for many months, or even years. All children should be able to benefit from education and excluding children from that because they have additional needs should concern us all. In many cases knowledge of the law can be really helpful for parents. I wanted to empower parents and young people to understand the law in order to ensure that they could get the education to meet their needs.

4) What would you hope that your research / project might achieve?
This is a complex area of law and understandably, many parents just do not understand it. Free legal advice is available to help parents on a very low-income challenge a decision in tribunal but there are many legal problems which do not attract free legal advice and many low-income parents are excluded from the free advice in any event. I hope that our research and our work can help lead to a greater understanding of the law amongst parents, young people and those working with children. We also hope to encourage policy change locally and nationally, to ensure that children's rights are respected and they can gain access to the education to which they are entitled.
5) What is your message to women looking to work in roles like yours?
I came to academia via legal aid and local authority work. Academia is very different from those office-based jobs. It has an appealing flexibility but that flexibility means that work creeps in to home, and I have found myself thinking about work and doing work at home much more than I ever did in my previous roles. However, I have been able to develop my role in a way that aligns with my interests and I am able to combine all of my roles (teaching, working on client cases and research) so the central themes are matters which I feel very strongly about and this is perhaps why. I have always said that if you are lucky enough to be in the position to do so, choose a job that you care about or that really interests you, and academia is no exception.


6) The theme for this years' International Women's Day is #EachforEqual – what does this mean to you?
I think this theme is hopeful. Sometimes it can feel that as individuals we can make very little difference, and that may lead to a sense of being overwhelmed by the challenges we face. The theme helps to ensure that everyone knows that individual action can lead to change.
You can read more about Deborah's work here: https://www.liverpool.ac.uk/law/staff/deborah-tyfield/
To make sure you don't miss any of the International Women's Day 2020 spotlights this week follow us on Twitter and Like us on Facebook