Research Staff Development Highlights
Posted on: 21 September 2020 by Dr Saneeya Qureshi (Length: 450 words - Read time: 2 mins) in Blog posts
Dr Saneeya Qureshi takes us through how the Academy's researcher development team continue to actively support our research staff.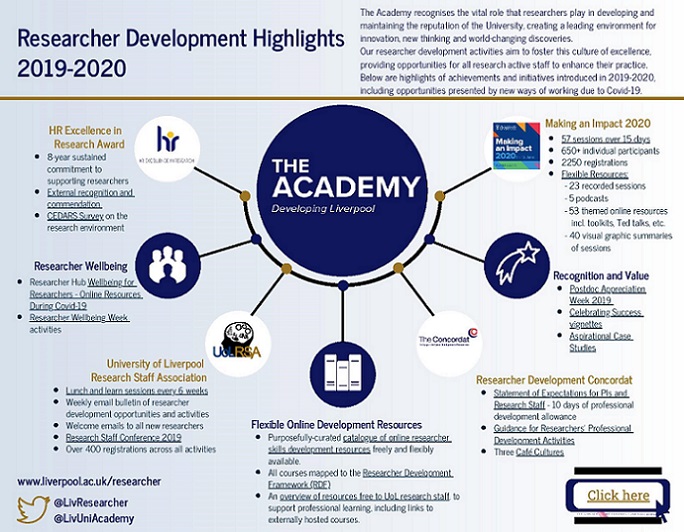 The Academy's Researcher Development Highlights 2019-2020
Download the Academy's Researcher Development Highlights 2019-2020.
Download the accessible version of the Academy's Researcher Development Highlights 2019-2020.
We in the Academy's researcher development team continue to actively support our research staff in this brave new world! We kicked off the new ways of working by offering Making an Impact 2020 entirely virtually, supporting all UoL RSA activities to pivot online, and creating a comprehensive online resource bank for researchers' wellbeing during Covid-19. Information and links through to other important researcher development highlights from 2019-2020 are indicated in the infographic below, with clickable links. (must use the pdf version for the hyperlinks to work).
More recently, we have engaged with our partners in 17 other institutions to offer a rich and diverse programme for National Postdoc Appreciation Week 2020 and we continue to offer development activities working closely with the UoL RSA, meeting the needs of research staff that we hadn't had to address before.
Recent landmark sectoral changes, such as the launch of the Revised Researcher Development Concordat and the UK Research and Development Roadmap, have further recalibrated our work. We are now engaged in the process of designing a hybrid approach to researcher development, having cyphered the meaning of Covid-19 into our wider work, as a positive impact on our practice which is to be retained. We continue to reflect on how we respond to the diverse needs of our research staff – so watch this space!
What is one key takeaway from this post?
In the meanwhile, as we work towards finalising our hybrid offering, did you know that all Liverpool staff, have free access to a diverse range of online career development resources both on the Researcher Hub and through Vitae, a non-profit organisation providing information and resources to help researchers develop their careers. The University of Liverpool is a member of Vitae, which means that you can register and login for free on the Vitae website. You may be particularly interested in their career resources, which include information on jobs PhD-qualified people do, career stories, career planning resources, examples of CVs etc.
Where is best to find out what is available from the Academy's Researcher Development Team?
Communication remains key and we want to ensure that researchers are aware of all our support.  We send out information via the weekly RSA e-bulletins which summarise opportunities and activities for research staff, particularly early career researchers. You can also follow this blog via the RSS feed at the end of the page, and follow us on Twitter. 
As uncertainty still looms ahead over the next few months, please be assured that the Academy's Researcher Development Team will continue to deliver and tailor our support for you. We are keen to ensure that we meet the diverse needs of all colleagues, so please do contact us if there are additional measures we can take to ensure that our offering is more accessible for you.
About the author
Dr Saneeya Qureshi is Head of Researcher Development and Culture in the Academy. She is responsible for activities that place Liverpool at the forefront of Research Staff Development practice, through tailored programmes and the leadership of flagship projects and initiatives which are aimed at cascading effective practice and developing the capabilities of all research staff to meet the University's strategic focus on excellence via Strategy 2026.
Notifications
To set up an RSS feed for more Researcher blog posts, please copy and paste the below link into your RSS subscriptions area:
https://www.liverpool.ac.uk/researcher/blog/RSS/index.xml
If you have not set up an RSS feed before, please follow the instructions in this RSS Feed Setup Guide.
---