My experience of the 3MT competition
Posted on: 8 September 2023 by Fionnuala McCully in Blog posts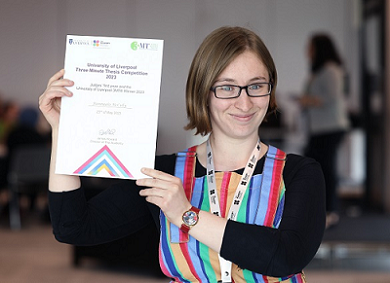 Fionnuala McCully, PhD candidate in the University of Liverpool's School of Environmental Sciences, recounts her experience of winning the University's Three Minute Thesis competition and offers her own tips for future competitors.
You seem like an understanding audience, so I'm going to tell you the truth: I am not 'naturally talented' at 75% of the stuff I do in my daily life as a PhD student. Don't get me wrong, I recognise that I am a highly skilled scientist who deserves to be a PhD student at this prestigious university. But one of the things that makes a PhD so challenging is that you need to be a jack-of-all-trades.
I will never be the departmental statistics guru and I am far from fluent in the programming language I work with every day. My talents lie in story-telling. I love a narrative, a performance and an audience, and I am pretty good at taking these things and smooshing them together with my projects to make 'science communication'. As a PhD student, chances to deliver 'sci com' are much rarer than opportunities to code statistical models. Often, you have to seek out these opportunities yourself.
Entering Vitae's three-minute thesis (3MT) competition presented a great opportunity for me to flex my sci com muscles and have some fun in the process. The rules are simple. You must provide a compelling oral summary of your thesis in three minutes, with nothing but a single static slide to help you. Turns out, this is an extremely difficult thing to do! I knew my thesis, which focuses on parental care in seabirds, could be moulded into a relatable story. However, in this fast-paced world, attention spans are short. Being able to relay a key message in a such a tight time window is an invaluable skill, which PhD students will not get from writing a 50,000-word thesis.
Aside from the thrill of presenting live at the University of Liverpool final, entering 3MT has benefited me in many practical ways. I received plenty of helpful feedback from the judges and a one-on-one tutorial with science communication expert Jamie Gallagher really helped me to hone my skills. Ultimately, practicing those three minutes over and over again paid off and I won the University of Liverpool final!
So if you, like me, want to experience something beyond your daily PhD activities, consider entering 3MT 2024. It will stretch your brain in a whole new way and remind you that, in academia, talent comes in all kinds of flavours!
Three tips for 3MT 2024 hopefuls
1. Practise, but not to death. Especially if you're performing it in person. Learn the script and have a plan of where you need to be in the presentation at what time, but remember that you might trip yourself up if you overthink it.
2. When it comes to slide design, less is more. To my dismay, I felt I had to include words on my slide (only two, I swear!) but ideally, you want an eye-catching, low-text slide which you actively use as part of your presentation. It's not just window dressing!
3. If you're on the fence about entering, just give it a try! I almost didn't enter because I was concerned it would distract me from my PhD. Then I remembered that a PhD is more than just a thesis. 3MT offers experiences you might not get anywhere else.
About the author
Fionnuala McCully is a PhD candidate in the University of Liverpool's School of Environmental Sciences. An ornithologist at heart, Fionnuala's thesis focuses on the parental care behaviours of seabirds. She is also passionate about both science communication and science fiction!
---