Pathfinder: Adventures in researcher land - 3rd edition
Posted on: 1 September 2022 by Dr Angela Midgley (Length: 321 words - Read time: 1 min 36 secs) in Blog posts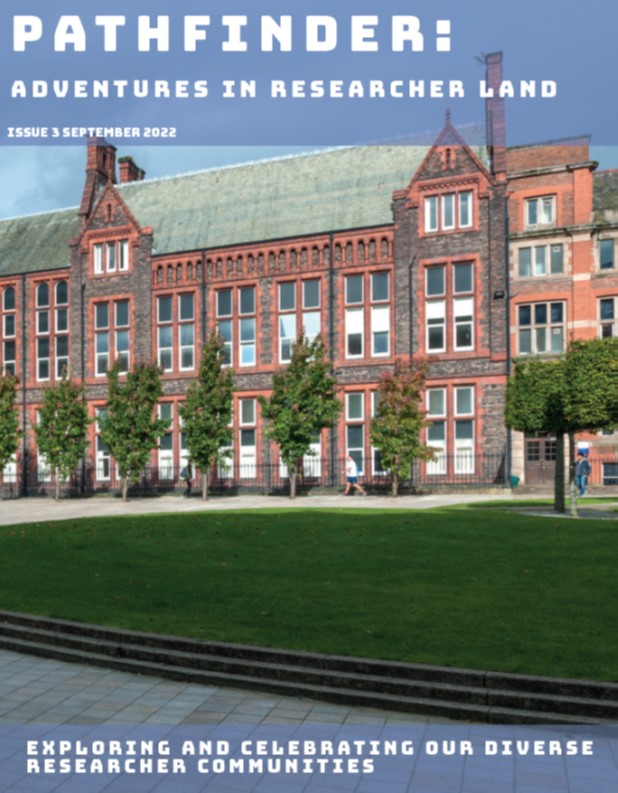 Dr Angela Midgley introduces the third edition of the researcher development newsletter.
Over the past 12 months it has been exciting and a privilege to work with so many researchers on a wide range of researcher development activities.
It has been wonderful to be able to meet colleagues again face to face at the sessions delivered in a Hyflex format where participants and speakers were able to attend in person and online.
So many rich resources created by researchers, for researchers have been produced which we look at in more detail in the latest edition of Pathfinder: Adventures in Researcher Land, a dedicated publication for researchers and research related staff across the University of Liverpool.
The 3rd edition of Pathfinder highlights some of the insights and topics covered in the Researcher blog and chats with Dr Revathy Krishnamurthi about her own personal career journey which she details in her recent blog post "What does it take to pursue science for a woman from a rural background? From 609503 to L69 7ZB".
We also hear from four researchers in the Faculty of Humanities and Social sciences who have successfully obtained fellowships and provide practical advice and tips on applying for competitive funding schemes.
From PhD to PI: Applying for and doing ECR research fellowships in Humanities and Social Sciences session can be found here (Staff login required)
There is also an article from the Prosper project team on how journaling can be used to support self-reflection and can assist thinking around career and skills development.
Finally we hear from a number of researchers that attended a celebratory event in July, that acknowledged their achievements, successes, strengths and the huge contributions they make to the University.
We really hope that you enjoy reading the latest edition and as we start the new academic year we look forward to working closely with researchers in developing and delivering new opportunities.
We welcome any contributions or idea's you may have for future issues. Please email theacademy@liverpool.ac.uk or Researcher@liverpool.ac.uk
Find the 3rd edition here.
Read the Pathfinder newsletter
Download the 3rd edition of the Pathfinder Newsletter 3rd Edition (PDF, 5MB)
About the author
Dr Angela Midgley is a Research Staff Developer at The Academy at the University of Liverpool. Angela's role involves implementing researcher development initiatives and high quality development activities, which are aimed at cascading effective practice and developing the capabilities of all research staff across all career stages and faculties. Angela also works closely with and supports The Academy's Research Staff Association (UoL RSA) in partnership with UKRSA.
Notifications
To set up an RSS feed for more Researcher blog posts, please copy and paste the below link into your RSS subscriptions area:
https://www.liverpool.ac.uk/researcher/blog/RSS/index.xml
If you have not set up an RSS feed before, please follow the instructions in this RSS Feed Setup Guide.
---