What does it take to pursue science for a woman from a rural background? From 609503 to L69 7ZB
Posted on: 26 May 2022 by Revathy Krishnamurthi (Length: 793 words - Read time: 4 minutes) in Blog posts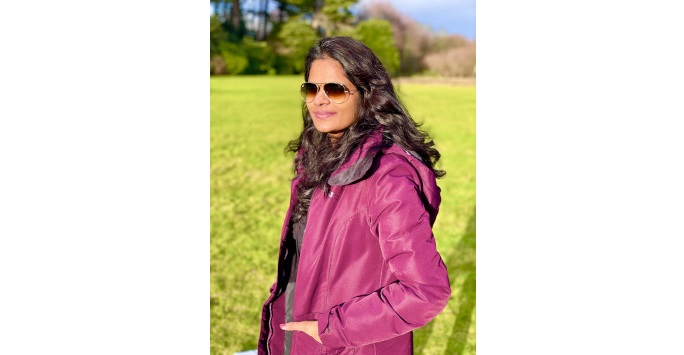 My parents taught me that education is the primary wealth.
Typical Indian Childhood back in 1990's: I was born in a small village in India, called Koothanur. My father was a supervisor in a two-wheeler sales showroom and earned meagre. I do not remember any pleasant moment of my childhood as everyday life was a battle for us. My parents taught me that education is the primary wealth. At a point, when sustenance became a big deal, my strong grandmother decided to keep the whole family of four of us under her umbrella.
Early life
As no school in my village could teach subjects in English medium, I was sent to a higher secondary school that required 54km travel every day. I knew nothing other than school, home, and the train I used to travel. I was just a bookworm adapted to read textbooks and nothing more. The things I knew out of my books were learnt from my cousins whom I look up to a lot, as every one of them was excellent in what they did. They were my only source of inspiration. And they motivated me a lot when I needed it the most.
Somehow to the self-surprise, I passed my senior secondary board exam with flying colours. The tides turned heavy during my high school. I grew up, and my biological clock worked. Travelling a long distance with just cloth napkins during the menstrual cycle, the physical changes along with unexplainable mood swings made me bunk classes and stay back at home. Moreover, the lectures were not interesting to me as most of the syllabus would be covered in private tuition where my entire class learns, and I was an outlier. I managed to get a distinction in higher secondary board examinations.
Master of Science, but not market ready
My general interest in the subject of biology made me opt bachelor's degree in Biotechnology, where I found ways of self-learning through the college library. At the end of my bachelors, I realized the world out of my town as my cousin brother invited me to visit him in Bengaluru, one of the cosmopolitan cities in India. This is the place where I learnt to look upon life. Soon I joined my master's and emerged out of cocoon! Life became more colourful, positive, and I got my wings to fly out of my cocoon. Still, I did not learn well to adapt to the world out of my cocoon.
Before the training completion, I managed to get a scholarship for doing my PhD. I entered the grad school campus; the world I saw was too different, for which I was not ready. All my colleagues were genius who made me panic even more. "I was not prepared to face a challenging niche, neither, wanted to quit as that was a one-time opportunity for someone like me."
Journey begins with mentors
I have a mentor, Dr Aswin Sai Narain Seshasayee, who taught me life more than academics, specifically how to make quick decisions and move forward. I really do not know why a boss should be so stubborn in retaining a student like me who showed only results that failed for the first two years. He had supported me in my life decisions as well while I was sailing through the storm. Without him the entire roller coaster scientific journey - A marriage, two kids with a long maternity break in between the PhD timeframe - is not possible for me. I cannot thank him enough for all the guidance and freedom he gave me to pursue what I liked. He is a boss who still works on his former student's application form even after a decade, by saying, "let us go through it together!". After that actual learning, I ended up as Postdoc in the University of Liverpool, where I met my current boss Dr Heather E Allison who thinks and practices "Women should be uplifting other women by leaving the ladder for others that they used to climb up." I have things to learn from her in day-to-day conversations. Again, I am in a right hand where my skills are appreciated, and values are respected. I could get time for RSA, public engagement, and Prosper activities apart from lab work as the freedom of doing what I like continues here as well.
While each of our journey is different, I believe that every woman in STEM could relate to my path in some way or the other across the geographical barrier. As far as the will is strong, you will find a way to sail the currents. Adopt your experiences as learning at every step. "Very importantly choose your niche, where your values are respected along with your technical skills." Learning is endless and I will continue to do so.
To sum up, it takes selfless strong parents, grandparents, extended family, siblings' friends, University that gives freedom to learn, mentors like Aswin and Heather, spouse who cares for partner's passion and dreams, and "her own will" to mould a rural girl into a scholar.
About the author
Revathy Krishnamurthi is an experimental Molecular Microbiologist. She obtained her PhD from National Centre for Biological Sciences, India. Revathy's primary interest is to understand the biology of bacteriophages - a viral predator of bacteria. Currently she is a postdoctoral researcher at the University of Liverpool in the Department of Clinical Infection, Microbiology & Immunology, IVES, investigating the role of bacteriophages in one of the clinically significant Liverpool Epidemic Strain of Pseudomonas aeruginosa abundant in Cystic Fibrosis patients. She is also one of the Deputy cochair in RSA team. Moreover, she is a member of the Prosper pilot second cohort at present. She is a mother of two children and enjoys her time with them when not in the lab.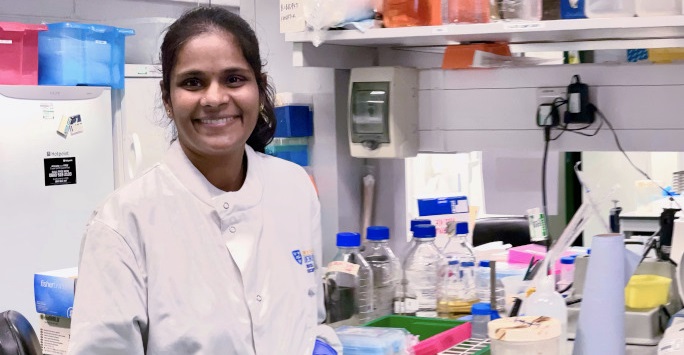 My career journey so far has taken me to my role as a Postdoc at the University in Liverpool, here I am in the lab.
Notifications
To set up an RSS feed for more Researcher blog posts, please copy and paste the below link into your RSS subscriptions area:
https://www.liverpool.ac.uk/researcher/blog/RSS/index.xml
If you have not set up an RSS feed before, please follow the instructions in this RSS Feed Setup Guide.
---