Pathfinder: Adventures in researcher land
Posted on: 8 March 2021 by Dr Angela Midgley (Length: 309 words - Read time: 1.5 minutes) in Blog posts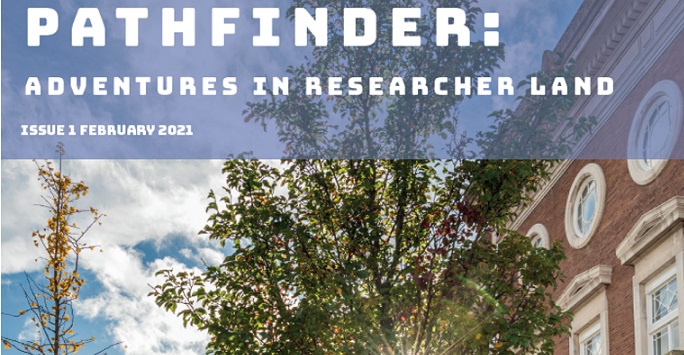 Dr Angela Midgley launches the researcher development newsletter, exploring and celebrating our diverse researcher communities.
I have always loved flicking through a magazine, whether it be during a tea break, on a train or waiting to have my haircut.
Short, image filled pages containing articles that can update me, inspire me and give me a greater insight about others in my community and beyond has filled many "me time" moments.
This month the Researcher Development team at the Academy are launching Pathfinder: Adventures in Researcher Land, a dedicated publication for researchers and research related staff across the University of Liverpool.
As described by the Director of the Academy Dr James Howard in his foreword for the first edition, the title Pathfinder, is to highlight the leadership, creativity and independent thought of the research community at Liverpool as "Pathfinders are those that forge ahead and discover the previously unknown, uncover new ideas and find routes across the wilderness that show others the way".
In this edition of Pathfinder the articles reflect on the many development opportunities that took place during 2020, and the response needed to make these opportunities accessible and successful during a global pandemic.
We hear the personal experiences and reflections of some of our own researchers as well as researchers outside of UoL that have been involved in the co-creation and delivery of highly successful local and national events.
A big focus of the last year throughout society both nationally and globally has been how we can create inclusive, diverse and respectful working environments.
In this edition of Pathfinder we ask this question to members of the researcher community that were part of the panel session on "Inclusivity in Academia" at the Research Staff conference in December 2020. Their positive and proactive comments and insights provide realistic actions we can all be a part of.
Read the Pathfinder newsletter
Download the 1st edition of the Pathfinder newsletter (PDF, 11MB)
Contribute
We really hope that you enjoy reading this first edition and we welcome any contributions or ideas you may have for future issues. Please email theacademy@liverpool.ac.uk or Researcher@liverpool.ac.uk
About the author
Dr Angela Midgley is a Research Staff Developer at The Academy at the University of Liverpool. Angela's role involves implementing researcher development initiatives and high quality development activities, which are aimed at cascading effective practice and developing the capabilities of all research staff across all career stages and faculties. Angela also works closely with and supports The Academy's Research Staff Association (UoL RSA) in partnership with UKRSA.
Notifications
To set up an RSS feed for more Researcher blog posts, please copy and paste the below link into your RSS subscriptions area:
https://www.liverpool.ac.uk/researcher/blog/RSS/index.xml
If you have not set up an RSS feed before, please follow the instructions in this RSS Feed Setup Guide.
---