Making an Impact, the University's flagship annual researcher development activity – 4 years on and still Making an Impact!
Posted on: 7 May 2021 by Dr Angela Midgley (Length: 529 words - Read time: 2 minutes, 28 seconds) in Blog posts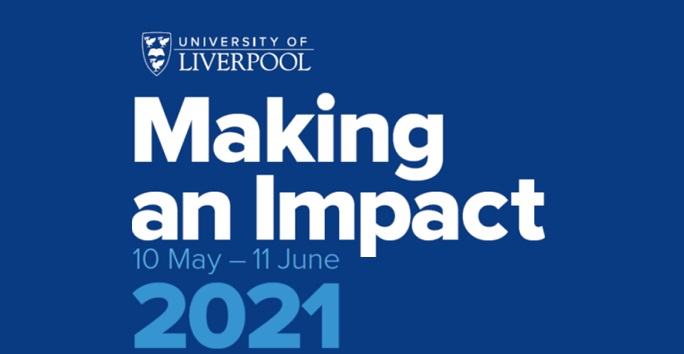 Dr Angela Midgley talks about the Making an Impact series, initially developed in 2018 and 2019 to provide development activities focused around the Industrial strategy priorities.
In 2020, once more in support of the University's Vision to be "globally recognised in all our research and impact activities", The Academy partnered with colleagues from Research, Partnerships & Innovation (RPI) to design and deliver Making an Impact 2020.
In response to COVID-19, Making an Impact 2020 was delivered as an entirely online event and was a great success with over 650 individual registrations.
Move forward almost 12 months and we are once more getting ready to deliver the 1st session of a five week programme (10 May -11 June) of rich and varied development opportunities around research impact for researchers across the University at all career stages.
The limitations that the pandemic has created with regards to being unable to have a face to face event has once more resulted in Making an Impact 2021 delivering all 66 live sessions online.
However we don't see this entirely as a limitation at all, as we also are very aware that online events can often be more accessible as the comment below from someone that attended Making an Impact 2020.
"The current programme was absolutely brilliant. I would consider doing the Making an Impact online for 2021. It made it very inclusive for people living far or with caring responsibilities, who thanks to the online platform, were able to attend the workshops".
On this note, we are also delighted that our Keynote sessions and those that are opened out externally currently have over 220 registrations from Universities throughout the whole of the UK.
Making connections
Being able to connect with others and network with peers and colleagues throughout the University and beyond is what makes these types of activities the most worthwhile.
Therefore, we are really delighted this year to also include networking sessions timetabled into the programme every Friday during the series, which will be held in a virtual space that has rich illustrations and interactive environments to help facilitate engagement that feels informal and close to what you would experience when sharing the same physical space.
This virtual space and a channel on Microsoft Teams will also be available throughout the whole five weeks for those that attend any of the Making an Impact sessions to continue conversations, chat informally, network and make connections.
The sessions this year, cover many exciting topics including Keynotes on the Knowledge Exchange Framework results, Making University -Company partnerships pay off, How to create Social Impact, Global research collaboration and innovation and How to rebuild Liverpool City region following COVID. As well as sessions on leadership, writing grants, fellowships and C.V's and digital innovation, plus much, much more. Details of which can all be found here.
I know that the next 5 weeks will very busy, and as an organiser a little stressful but I am so delighted to be part of a series that continues to make a positive impact on researchers and help them to engage with colleagues and external partners.
I know that many ideas and connections, enhancement in working practices and reflection will take place and I am excited to see how this series can itself evolve over the next few years.
I hope to see you there.
About the author
Dr Angela Midgley is a Research Staff Developer at The Academy at the University of Liverpool. Angela's role involves implementing researcher development initiatives and high quality development activities, which are aimed at cascading effective practice and developing the capabilities of all research staff across all career stages and faculties. Angela also works closely with and supports The Academy's Research Staff Association (UoL RSA) in partnership with UKRSA.
Notifications
To set up an RSS feed for more Researcher blog posts, please copy and paste the below link into your RSS subscriptions area:
https://www.liverpool.ac.uk/researcher/blog/RSS/index.xml
If you have not set up an RSS feed before, please follow the instructions in this RSS Feed Setup Guide.
---