In Profile: Emma Henigan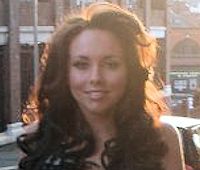 Where are you from originally? I was born in Liverpool and have lived here all my life.
Why did you choose to come here? I was originally set on going away to university, but once I visited the University of Liverpool campus I could only really see myself there. The atmosphere on campus is very vibrant and so welcoming and I love how it is almost like a small student village perfectly placed on the outskirts of the city centre. Also I knew from growing up here that the student scene and nightlife was amazing, so I was confident that I would have a perfect, well-rounded student experience in a fantastic red brick university.
Were you involved in any activities whilst at University? As a postgraduate student I am involved with the Liverpool Entrepreneurs Network Society, a fantastic organisation which aims to encourage young and potential entrepreneurs to come to the University. It provides a platform to meet and learn from experienced entrepreneurs and promotes workshops to develop entrepreneurial skills and ideas. As Head of External Relations for the committee I am always excited to talk to individuals and businesses who can contribute to our society in any way; either through events and appearances or through sponsorship.
What memories stand out from your time in the city? I have experienced Liverpool as a child, as a student, and now as a young professional, so I have a wealth of amazing memories. As I have gone through each of those stages I have discovered a new dimension to the city. When I think of Liverpool, I think of a beautiful city skyline full of heritage, friendly and supportive people, and a fantastic social/nightlife scene.
After graduation you set up a mediation business. How did that come about? In the second year of my Law degree I came second in a mediation competition held between Liverpool and Manchester Universities. It was hosted by the London School of Mediation and I won a scholarship on one of their prestigious courses. It came very naturally to me and I loved it. Essentially, I gained my qualification courtesy of the University of Liverpool Law School and it opened up huge opportunities. Once I had decided that I wanted to set up a civil and commercial mediation business, I attended the self-employment briefing sessions run by the University of Liverpool Management School. These sessions covered everything from business structures and taxes to marketing. The Management School also provided me with crucial support, including office space, a website designer, an accountant and a mentor. Their assistance has been invaluable and I always advocate their services to other students.
What is the most valuable lesson that you have learned while running your own business? The most valuable lesson I have learned is that if you don't ask, you won't get. There are a wealth of individuals and organisations in the city who can offer all kinds of help and support. The University is the best example of this; ask for help, ask for guidance, ask for special offers on your marketing, ask to be introduced to people's connections. The same goes for clients. The point is to be proactive and be brave. You make your own luck and your own success.
Do you find it difficult to juggle your business and studying for your masters? At the beginning of term when it is relatively quiet I find it much easier to balance. However when the exam and assignment deadlines loom it is more difficult and my masters takes priority. So during exams and coursework deadlines I will keep on top of emails and take enquiries and mediations from existing clients or connections, but I don't have time to seek out new clients and promote the business like I usually would.
Have you been able to put what you have learned into practice? I decided to study the MSc in Management because I knew it would develop my business skills and general commercial awareness and I have not been disappointed. My Accounting and Entrepreneurship modules have been most beneficial. The degree has provided me with some practical skills and experience and I have come a very long way since September.
What do you hope to do in the future? When I finish my masters I plan to dedicate all of my time to my business. I want to build and develop it so that it becomes a top mediation provider. What three words sum up your time at the University? Inspiring. Opportunities. Memorable.