Funding Success: £40.9k secured from the Leverhulme Trust (UK) to explore law and loss in relation to animal companions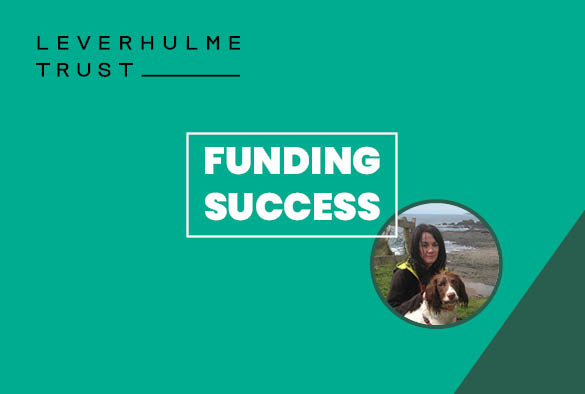 Companion animals share our daily lives and provide significant emotional support to humans. Yet, to the extent that law addresses animals at all, it deems them legal property. This research will challenge this legal conception of the animal.
Professor Marie Fox, Liverpool Law School, has secured £40.9k funding from the Leverhulme Trust (UK) Research Fellowship Award to examine legal governance of the human-animal relationship. This research will explore socio-legal perceptions of animal loss, and the grief and other emotions associated with the passing of, or separation from animals. The project, entitled 'Law, Loss, and Companion Species', will run from September 2023 – August 2024.
Situated at the intersection of socio-legal studies, animal-human studies, and bereavement studies, through this research, Professor Marie Fox will investigate how UK law can be reframed to acknowledge the impact of such loss, were human-animal relationships taken seriously by law.
While we often see companion species as fully integrated into our family lives – a trend which has been exacerbated by the Covid-19 pandemic – they are simultaneously seen as disposable in various ways. Trivialisation of feelings of grief or bereavement following loss or death of an animal leads to these emotions being hidden or downplayed.
This research will unpack the harms caused to both human and nonhuman animals as a result of the law's failure to recognise animal loss across a range of legal sites, in a bid to encourage a more relational understanding of companion species.
Speaking of the research fellowship award, Professor Marie Fox, said:
"I am excited to have this opportunity to focus on writing a monograph focused on animal law and I look forward to my ongoing collaborations with the Pet Loss Network and the University of Liverpool's cross-disciplinary Connecting Human-Animal Interaction Research (CHAIR) research grouping."
Professor Helen Stalford, Head of the Liverpool Law School, said:
"Through this latest funding achievement, Professor Fox will provide unique insights into how law and policy relating to the treatment of animals need to develop in a more integrated manner to reflect the dependency that humans have on them for advancing their own rights and wellbeing."
Since its foundation in 1925, the Leverhulme Trust has provided grants and scholarships for research and education, funding research projects, fellowships, studentships, bursaries and prizes; it operates across all the academic disciplines, the intention being to support talented individuals as they realise their personal vision in research and professional training. Today, it is one of the largest all-subject providers of research funding in the UK, distributing approximately £100 million a year.
For more information about the Trust, please visit www.leverhulme.ac.uk and follow the Trust on Twitter @LeverhulmeTrust.