Dr Seán Columb and Prof Helen Stalford are both Socio-Legal Studies Association (SLSA) 2021 Prize-winners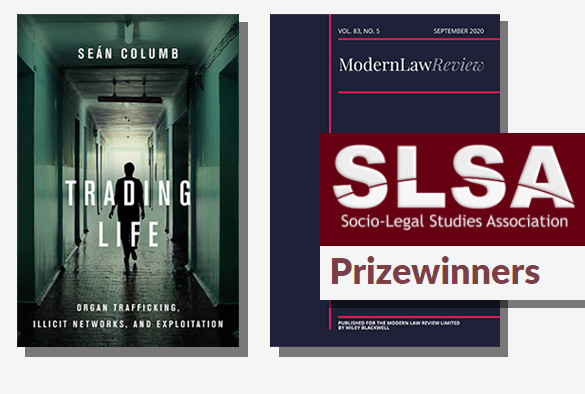 The School of Law and Social Justice is delighted to share news that in April 2021, two of its Law academics have been awarded Socio-Legal Studies Association (SLSA) Prizes. Dr Seán Columb, Senior Lecturer in Law, won the Hart-SLSA Prize for Early Career Academics 2021 and Prof Helen Stalford, Professor of Law, won the Socio-Legal Article Prize 2021.
Researching modern slavery and exploitation
Dr Seán Columb won the Hart–SLSA Prize for Early Career Academics 2021 for his book: Trading life: Organ trafficking, illicit networks, and exploitation (Stanford University Press).
This groundbreaking book investigates the emergence and evolution of the organ trade across North Africa and Europe. Seán Columb illuminates the voices and perspectives of organ sellers and brokers to demonstrate how crime and immigration controls produce circumstances where the business of selling organs has become a feature of economic survival.
Drawing on the experiences of African migrants, Trading Life brings together five years of fieldwork charting the development of the organ trade from an informal economic activity into a structured criminal network operating within and between Egypt, Libya, Sudan, Eritrea, and Europe.
Sean said: "Honoured to receive the 2021 Hart-SLSA early career book prize for 'Trading Life. Thanks SLSA UK for helping me get started with a fieldwork grant back in 2014."


Campaigning for child-centred approaches
Making it a double-win for the School at this year's SLSA awards, Prof Helen Stalford won the Socio-Legal Article Prize 2021 (in collaboration with Prof Kathryn Hollingsworth, Newcastle University) for the article: '"This case is about you and your future": Towards Judgments for Children' featured in Modern Law Review, Volume 83, Issue 5 (September 2020), pages 1030-1058.
Abstract – A handful of 'child‐friendly' judgments have emerged in the UK in recent years, attempting to adopt a child‐centred approach to the decision‐making stage of the legal process. Most notable is Sir Peter Jackson's judgment in Re A: Letter to a Young Person which, in taking the form of a letter to the child, has been applauded as a model of how to achieve 'child friendly justice'.
Find out more
SLSA Prize-winners in previous years include Dr Roy Coleman (2005), Prof Nicola Barker (2013) and Prof Marie Fox (2019).