International expert meeting and book launch in Budapest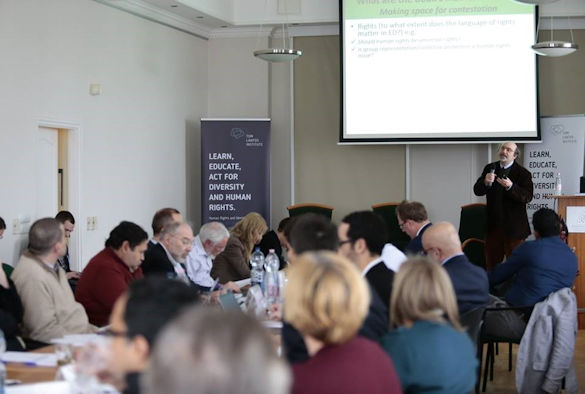 Gaetano Pentassuglia is Reader in International Law and Director of Postgraduate Research at University of Liverpool School of Law and Social Justice.
Dr Gaetano Pentassuglia co-organised with the Budapest-based Tom Lantos Institute a major international expert meeting on 'Is There a Momentum for Change? Assessing International Minority Protection Regimes in Times of "Abnormal Justice"'. Drawing on Nancy Fraser's concept to describe a condition when hegemonic understandings of justice claims have eroded and contestations over basic premises have proliferated, the meeting engaged in high level debates over divergent assumptions about the 'who' (the subject), the 'what' (the substance) and the 'how' (procedural issues) of justice in the context of group protection.
The meeting, fully funded by the Tom Lantos Institute and spanning two full working days, brought together an unprecedented number of established national and international authorities and practitioners in the field, as well as community representatives, from a variety of disciplines and a variety of geographical areas (from North and South America to Europe, to the Middle East and Asia).
The event featured the launch of Gaetano's recently edited book on Ethno-Cultural Diversity and Human Rights; Challenges and Critiques, and waspreceded by an introduction from Martinus Nijhoff Publishers Acquisitions Editor Lindy Melman. Gaetano led various sessions of the expert meeting, particularly sessions discussing the 'who' of group protection and the role of experts in the context of public engagement. He also co-chaired roundtables and open sessions with TLI Director Anna-Maria Biro and newly appointed United Nations Special Rapporteur on Minority Issues Dr Fernand de Varennes.
The co-organisers are seeking to build on these discussions to develop a multi-year Brill publication strategy that can inform scholarly debate in new and imaginative ways while revaluating possibilities for engaging international and national institutions.