School Research Centres celebrated in special event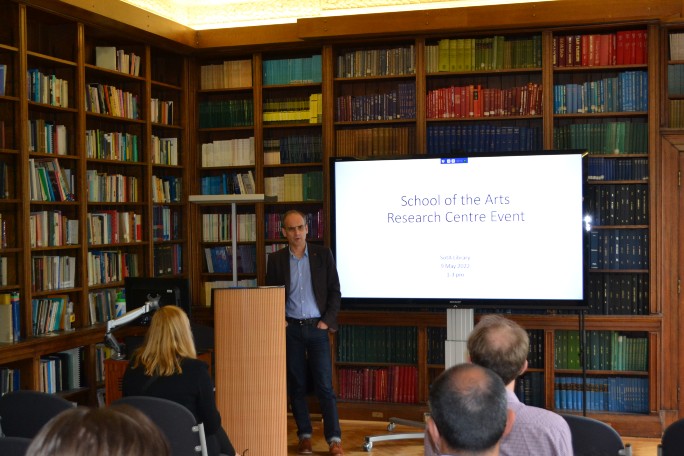 On Monday 9 May, Directors and Co-Directors gathered for a Research Centre event in the School of the Arts Library to celebrate the recent growth in Centres - which have almost doubled in number over the past five years - and to recognise their vital contribution to the School's research culture. The event was also a chance for colleagues to share their practice, ideas and experience.
Dean of School, Professor Peter Buse, opened the event by emphasising the value of Research Centres, in providing academics and postgraduate (taught and research) students an intellectual home, a sense of identity, and a space to do together work that they could not achieve individually. Research centres are also a key aspect of the School's external profile and the way we present our research to the outside world.
There followed brief presentations from nine of the eleven Research Centres across the School.
From Architecture, Professor Carl Hopkins, Director of the Acoustics Research Unit, which specialises in the field of sound and vibration, presented on the Centre's international record of knowledge exchange, consultancy and training with industry, as well as their award-winning impact project, Musical Vibrations, working with d/Deaf musicians.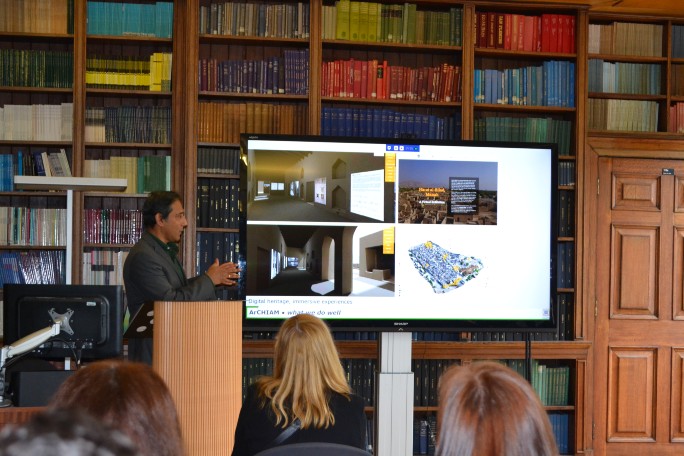 Professor Soumyen Bandyopadhyay presents the work of ArCHIAM.
Architecture's other two research centres were also represented. Professor Richard Koeck, Director of CAVA (Centre for Architecture and the Visual Arts), focused on how acting smart, fast and agile and partnering with world-leading industrial and cultural organisations enables the Centre to deliver cross-disciplinary, impact-focused and practice-based Research & Development at the critical intersection of space, media and culture. Professor Soumyen Bandyopadhyay spoke about ArCHIAM's interdisciplinary approach to research and practice-based work in heritage management and sustainable development in India, Arabia and the Maghreb, integrated by capacity building, awareness raising and dissemination, which the centre conducts in partnership with foreign governments, cultural and financial institutions, NGOs, and communities of practice and residents.
The three new interdisciplinary centres based in Communication and Media also featured in the event.
Dr Victorina Gonzalez-Diaz (Reader in English) and Dr Rudi Palmieri (Senior Lecturer in Communications & Media) outlined the ambitions of the Language, Data and Society Research Centre to develop advanced and impact research on (big and small) data-driven analysis of language phenomena in different contexts of communication and social interactions. Professor Michelle Henning and Dr Les Roberts (Reader in Cultural and Media Studies) spoke of the aims of the Centre for Culture and Everyday Life (CCEL) as a forum for interdisciplinary critical and creative debate which has grown out of a long-standing research cluster on space, time and memory, and which engages with urban experience and visual culture in Liverpool and internationally. Professor Katia Balabanova and Dr Emily Harmer (Senior Lecturer in Media) presented on the Centre for Digital Politics, Media & Democracy (DigiPol), an interdisciplinary platform bringing together academics from the School of the Arts (Communication and Media) and the School of Histories, Language and Cultures (Politics), to address pressing research questions around digital media and democracy such as online harms, the future of journalism, political information and misinformation, inequalities and human rights.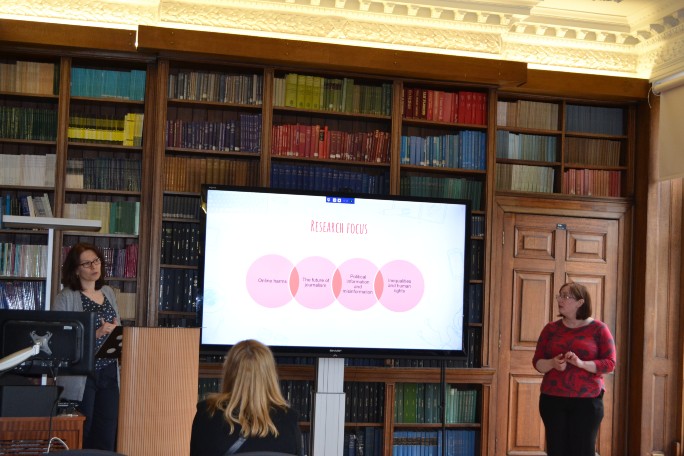 Professor Ekaterina Balabanova and Dr Emily Harmer introduce one of SotA's new Research Centres, DigiPol.
From English, Professor Greg Lynall and Senior Lecturer Dr Sam Solnick demonstrated the Literature and Science Hub's cutting-edge research concerning the intersection of the humanities with urgent questions coming from the sciences, including the environment and health and wellbeing, and the hub's extensive record of public engagement and impact at local and national levels. Dr Will Slocombe, Reader in English, and Co-Director of the Olaf Stapledon Centre for Speculative Futures, spoke of the success of the Centre in promoting future thinking (and the library's flagship Science Fiction collection) beyond the university, and in attracting external funding to conduct impact-oriented research on the role of science fiction in technological development, the design of virtual environments, and the development of interdisciplinary climate futures.
Finally, from Music, Dr Ben Hackbarth, Director of the Interdisciplinary Centre for Composition and Technology (ICCaT), provided glimpses into practice-based musical research (composition, sound art, AV media), methodological research (creative and analytical tools for future-facing musical engagements), and the centre's longstanding tradition of on-campus large music events and collaborative research residency programmes.
As witnessed by SotA's recent successful performance in REF2021, Research Centres are crucial engines in driving grant capture, in fostering the team work and partnerships critical to Impact Case Studies, and in enriching the research environment. Indeed, the School scored particularly well on its research environment in the REF exercise, with 100% of the environment in Architecture, Communication & Media and English judged to be conducive to generating research that is world leading (4*) or internationally excellent (3*).
Research impact was also a success story across the School, with Communication & Media and Philosophy ranked 4th, English 10th, and Music in the top quartile for impact classified as outstanding (4*). Architecture, ranked 5th in the sector for overall research classified as world leading (4*) or internationally excellent (3*), doubled their outstanding impact since REF 2014.
With thanks to Pauline Hadaway and Nathan Yearsley, SotA Research & Impact Team; Professor Josie Billington, Associate Dean for Research; and Dr Giamila Quattrone, School Impact Lead, for their support and delivery of this event.