Voices from Coventry: A sociolinguistic study of George Eliot's novels and correspondence
This sociolinguistic study uses corpus, computational and discourse methods of analysis to analyse the correspondence and novels of George Eliot to examine how GE communicated with her wider social network (typically the middle to upper layers of society), as well as how social rank and dialect are represented through her literature.
To do this, we digitise, annotate and analyse over 1,000 letters by GE. Additionally, we use Cooper's (2013) framework for studying historical enregisterment to explore rank and dialect in several of GE's novels, including Middlemarch, Mill on the Floss and Silas Marner.
Researchers: Emma Moreton, Paul Cooper and Melissa Raines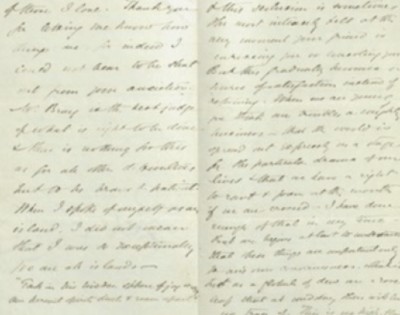 George Eliot and George Henry Lewes Collection. General Collection, Beinecke Rare Book and Manuscript Library, Yale University.