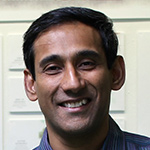 Professor
Soumyen
Bandyopadhyay
BArch, MArch, PhD
Sir James Stirling Chair in Architecture
Architecture
About
Personal Statement
Soumyen Bandyopadhyay is the Sir James Stirling Chair in Architecture at the Liverpool School of Architecture (LSA), and Associate Dean for Research for the School of the Arts (SotA). Previously Head of School at LSA (2016-21), Soumyen has held professorial positions at the Manchester School of Architecture (MSA) and Nottingham Trent University since 2008. He leads the University's Heritage Research Institute and chairs the inter-university grouping, Heritage Alliance of the New Silk Road (HANSR). Soumyen also directs the Centre for the Study of Architecture and Cultural Heritage of India, Arabia and the Maghreb (ArCHIAM, www.archiam.co.uk), an interdisciplinary research forum with projects in Oman, Qatar, Morocco and India.

His teaching and research interests are focused on the historical, theoretical and contextual approaches to architectural and urban design, and the settlements, architecture and art of India, the Middle East and North Africa. Soumyen teaches architectural design, mainly in the MArch (RIBA Part 2) programme, and contributes to the MA in Sustainable Heritage Management, and history and theory of architecture courses.

Soumyen has extensive experience of architectural and urban design practice in India and the Middle East and has undertaken advisory and consultancy work in urban development, regeneration, architectural and urban design, and conservation. ArCHIAM's heritage and tourism management, master planning and implementation project at Misfat al-'Abriyin in Oman (2013-20) won the United Nations World Tourism Organisation (UNWTO) Best Tourism Village award in 2021.

In addition to his published works in journals, Soumyen is also the author of the monographs, Site and Composition (Routledge, 2016) and Manah: Omani Oasis, Arabian Legacy (Liverpool University Press, 2011) and co-editor of The Territories of Identity: Architecture in the Age of Evolving Globalisation (Routledge, 2013) and The Humanities in Architectural Design: A Contemporary and Historical Perspective (Routledge 2007). He has co-authored research by design outputs and produced several reports for overseas governmental bodies.