Brabners supports Liverpool Law School students in their annual Charity Law Moot Competition
Students from Liverpool University met last night at the Liverpool offices of Brabners to participate in the fourth annual Charity Law Moot Competition.
A moot is a legal debate, based on a factual situation, where two teams of counsel, representing appellant and respondent, attempt to persuade the judges of the strength of their case by reference to legal authority. The moot problem is a pre-drafted factual situation in which a point or points of law are in dispute. In this particular moot, the debate was around the legal definition of charity. The task of each team is to support the side of the argument with which it has been presented. This is done with reference to legal authority, such as case law or legislation.
The judges weigh up the arguments presented and question counsel during the course of their submissions. At the end of the moot, the judges give their judgement on the law and they also decide who is the winning team, in terms of mooting skills. In this competition, the judges also chose one overall winner, Mehr Nigar, whose prize is a week-long work placement at Brabners, to be taken up over the summer holidays. The winning team (the appellants) and the respondents team will all receive a small gift from Brabners to mark their overall achievement in the competition.
Professor Debra Morris, Director of the Charity Law & Policy Unit at the University praised the students, who are all currently in the second year of their studies, for their commitment, preparation and performances. She thanked the judges, Professor Warren Barr, Ms Charlotte Hood-Fedriksen, both of Liverpool Law School and Mr Stephen Claus, Partner and Head of Charity and Social Enterprise at Brabners. She also thanked Brabners for supporting the competition and for providing such a valuable prize. She said: "The experience gained from placements is invaluable for students. The winner of last year's competition went on to become a Regional Champion of the National Client Interviewing Competition in 2015. I am sure that Mehr will equally benefit from her placement opportunity at Brabners."
Stephen Claus of Brabners, sponsors of the University's Charity Law & Policy Unit, said: "We are again delighted to show our support for the next generation of lawyers by offering a legal placement to the winning student. We have been able to offer a placement now for several years in the area of Charity Law, something students appear to be very interested in taking up. Brabners is a strong supporter of the University of Liverpool, and in particular the Charity Law & Policy Unit's work and we are proud to be able to continue to give it our support. Ranked as the North West's leading charity law practice, we are naturally interested in supporting the research and activities undertaken by the Charity Law & Policy Unit, and remain very impressed with the achievements to date which seem to go from strength to strength under the leadership of Debra, Warren and their team."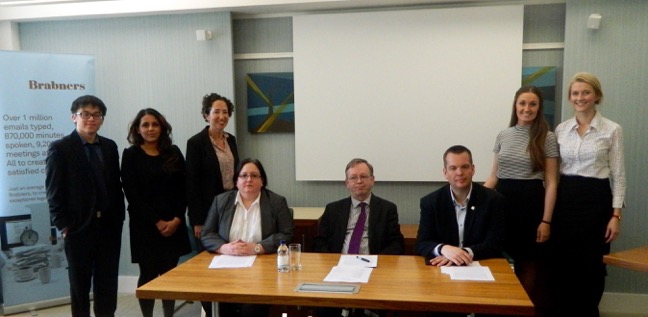 Photo:
l-r back row (standing) Vito Pun and Mehr Nigar (both appellants) Debra Morris, Meredith Glennon and Lucy Beatty (both respondents)
l-r – front row (seated) Charlotte Hood-Fedriksen, Stephen Claus and Warren Barr
‌