Charity Law & Policy Unit - Key Developments in Charity Law Symposium
Experts in Charity Law gathered at a Symposium in May held at the University of Liverpool and organised by the Charity Law & Policy Unit, to discuss eight key cases that have shaped charity law over the centuries. The invited audience then discussed the importance of the developments which were chosen by the speakers and decided whether each case earned its place as a key case. Experts presenting their cases included: Sir John Mummery, Lord Justice of Appeal, senior practitioners in Charity Law, such as Hubert Picarda QC; and, academics who specialise in this area. The Symposium was supported by the Charity Law & Policy Unit's sponsors, the law firm Brabners Chaffe Street. Debra Morris, Director of the Unit, thanked Brabners Chaffe Street and all the participants for what was truly a magnificent day. The papers from the Symposium are due to be published in a special issue of the Charity Law & Practice Review later in the year.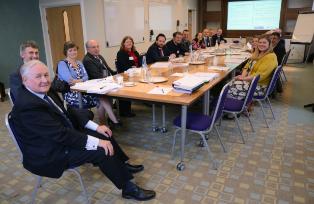 Picture (Lord Justice Mummery in the foreground with Symposium participants).‌