Who should take responsibility for the hundreds of unaccompanied children seeking asylum missing in the UK?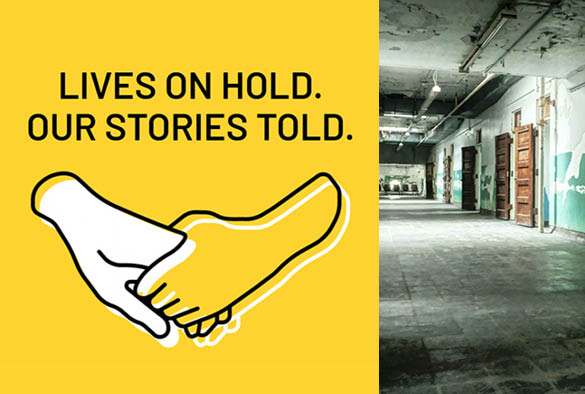 By Professor Helen Stalford, Professor Elaine Chase, Dr Jana Keppner, Dr Ingi Iusmen, and Dr Will Shankley, co-investigators of the 'Lives on Hold: Our Stories Told' ESRC-funded research project.
There have been disturbing reports in recent days of hundreds of unaccompanied children seeking asylum going missing following their arrival in the UK, many of whom are from Albania. Most reports have focused on criminal gangs luring children from temporary hotel accommodation, however, the findings of our 2-year research project, 'Lives on Hold: Our Stories Told' (LOHST), suggest that the problem is significantly more complex and an inevitable consequence of an ever-more hostile and negligent approach by the UK authorities to young people who seek asylum.

Our research, which involved 69 in-depth interviews with unaccompanied young people seeking asylum (aged 16-25) and with 53 practitioners and Home Office officials, offers important first-hand insights into the significant difficulties faced by young people in navigating the asylum system and in accessing vital legal, health, education and social care support. Such difficulties were compounded by Covid-19, which caused extensive disruption to and delays in front line services which continue to severely impact young people's access to due asylum process, services and support.
The findings, in many ways, reinforce what has been known for many years: that the asylum system is spectacularly failing in its duties towards children.
State authorities all have a duty to safeguard and promote the welfare of children in their area notwithstanding their nationality or precarious immigration status (s.55 Borders, Citizenship and Immigration Act 2009; s.17 of the Children Act 1989). This involves providing them with appropriate accommodation (s.20 Children Act) and a comprehensive care plan that is suited to their needs (Volume 2. Care Planning, Placement and Case Review). In reality, there are few benefits available to unaccompanied children seeking asylum as compared to adults seeking asylum. Discretionary leave to remain and a corresponding protection against removal available to all unaccompanied children is typically short-lived given that most (74%) arrive at 16 or 17 years old. For the majority, their right to access compulsory education (paragraph 6 of the Immigration Rules) amounts to little more than limited access to English to speakers of other languages (ESOL) provision and no right to access financial support for higher education.
Unaccompanied young people seeking asylum are no more prioritised when it comes to accessing health services either, including mental health support, than any other young person, despite the acute trauma and mental health difficulties endured as a result of their asylum journeys.
Campaign charities have also produced significant evidence - backed up by our research - of many being placed in privately-run, semi-regulated, typically sub-standard accommodation once they reach the age of 16, isolated from their peers, and from vital support networks and services. Children whose claims for asylum are accepted, unlike adult refugees, have no right to be reunited with their families. They have limited right to work, nor do they have the same opportunities as other children to acquire the training, skills, and qualifications they need to progress in education or employment. Asylum processes for children are not generally given special priority or expedited by Home Office officials, meaning that many are well into early adulthood before an initial decision is reached (GMIAU, 2021).
Indeed, a significant majority of unaccompanied children face protracted delays, repeated intrusive questioning, and suspicion and rejection at virtually every stage of the asylum process. Our findings also revealed a disturbing rise since Covid-19 in the incidence of the number of children being age-disputed and (incorrectly in many cases) assessed as adults and placed in adult accommodation.1
Faced with such hostility, uncertainty, poverty, lack of opportunity, and isolation, is it any wonder that such children might flee Home Office accommodation or fall prey to criminal networks?
Let us be clear. These children are not being bundled into the back of cars by criminal gangs; they are being lured into arrangements which are being presented and perceived as significantly more appealing than their lived reality of the asylum system.
More recent media reports on the Albanian channel crossings, coupled with the introduction of law to downgrade and expedite the removal of all those who arrive in the UK through so-called 'unlawful' routes (Nationality and Borders Act 2022, s.29 and Schedule 4; and Memorandum of Understanding between the government of United Kingdom of Great Britain and Northern Ireland and the government of the Republic of Rwanda for the provision of an asylum partnership arrangement, 14 April 2022), prompt additional fears and anxieties among young people seeking asylum, not only that their claims for asylum will not be efficiently or fairly addressed, but that they will be imminently removed.
We cannot emphasise enough the impact of current reporting on public attitudes which, in turn, is having an immediate injurious effect on young Albanian asylum-seekers' treatment at the hands of different services, and potentially seriously undermining their prospects for a positive outcome to their claim for protection.
The following comments by one immigration lawyer we interviewed are sobering and borne out in the reports on missing unaccompanied children:
"The impact of this reporting on the young people is profound. To them it feels relentless, and given all that they are already suffering, there is a risk that this is an additional pressure that they cannot manage. We are concerned that some of the young people may disengage with services and go underground. This rhetoric is therefore likely to increase the risk that young people will be drawn back into exploitative situations because they feel there is no hope for them in the asylum system. Some have expressed a loss of hope and an inability to see the point of living."
The fact that many of those children reported missing are Albanian is hardly surprising given the recent political and media invective asserting that the majority of Albanian's coming to the UK are economic migrants and seek to deliberately 'game the system'.23
For our project we interviewed 43 young Albanians and 13 practitioners with expertise in dealing with Albanian asylum claims. This aspect of the work revealed that the Home Office perpetuates racial prejudices in its own guidance, erroneously conflating the purported people-smugglers with the individuals who have no option but to use such channels.4
The Home Office also fails to acknowledge the messy interplay between corruption, economic migration, trafficking and asylum. This prejudice towards Albanian claims is reinforced by the country policy and information notes (CPINs) used by the Home Office to assess these claims.
We discovered that CPINS are drafted by the Home Office rather than independent, empirically verified expert reports.
As such the CPINs on Albania tend to draw on outdated and inaccurate information on the situation in Albania and paint Albania as a safe country of origin, where persecution, conflict, inhumane treatment or risk of indiscriminate violence towards Albanians are deemed not to exist. This is entrenched in statute too: section 94 of the Nationality, Immigration and Asylum Act 2002 allows Albanian asylum refusals to be certified, i.e. their right of appeal in the UK is forbidden as Albania is a 'designated' country, i.e. is a state where there is said to be no serious risk of persecution of persons entitled to reside in that state or part of it.5
Such misconceptions feed ever more restrictive Government proposals to exclude all Albanians from even claiming asylum and are reflected in how unaccompanied young Albanians' claims are processed and assessed: they experience longer delays in receiving a decision compared to most other nationalities and their initial claims tend to be refused.6
According to recent Home Office statistics, for example (for the period January-June 2022) 53% of Albanian asylum applicants were successful at initial decision, compared to 81% of other nationalities who were granted refugee status following an asylum application.7
There is a distinct gender disparity too: of the positive decisions on adult Albanians' asylum applications, 86% were for women, who were victims of trafficking. This shows that the vast majority of asylum claims by male Albanian asylum-seekers tend to be refused by the Home Office.
There are few, if any, young Albanians seeking asylum in our sample who are not experiencing serious mental health problems. Many are on medication, and some have attempted or contemplated suicide. Their situation in the UK is dire, as they wait for a number of years (2 or more years) for their asylum claims to be processed/decided/appealed. Some have been waiting for seven years or more, with no right to work and only able to survive on the services provided by an already stretched civil society sector.
And so, laying the blame solely on people smugglers and criminal gangs for the hundreds of missing children in the UK obscures the government's dismal failure to take due responsibility and provide adequate care for children seeking asylum.
This is even more pertinent in the case of Albanian unaccompanied minors, who are known to face more hostility in the UK asylum system, making them ever more vulnerable to exploitation and destitution.
Find out more
Footnotes
1 By the end of 2021, two-thirds (66%) of unaccompanied young people seeking asylum were age-disputed compared with 31 per cent in 2020 and 21 per cent in 2019. The Covid-19 lockdowns coincided with a significant increase in the proportion of age disputed people seeking asylum being assessed as adults - from 31 per cent in the third quarter of 2019 to 69 per cent in the same quarter in 2021.
2 Phoebe Southworth and Charles Hymas, 'Exponential rise' in Albanian migrants crossing the channel this year' The Telegraph (26 October 2022) <https://www.telegraph.co.uk/news/2022/10/26/exponential-rise-albanian-migrants-crossing-channel-year/> accessed 13 November 2022
3 Lucy Williamson, 'Channel crossings: Albanian migrants recruited to the UK by gangs' BBC News (4 November 2022) <https://www.bbc.co.uk/news/world-europe-63488070> accessed 13 November 2022
4 'Foreign Criminals and Illegal Entrants to the UK Removed to Albania' (GOV.UK) <https://www.gov.uk/government/news/foreign-criminals-and-illegal-entrants-to-the-uk-removed-to-albania--2> accessed 13 November 2022.
5 Home Office, 'Country Policy and Information Note Albania: Blood Feuds' (2022)
6 See the work of the 'Breaking the Chains' project, led by the Migrant and Refugee Children's Legal Unit; eg. Esme Madill, 'Albanian Asylum Claims: Making a Difference' (Free Movement, 7 October 2020) <https://freemovement.org.uk/albanian-asylum-claims-breaking-the-chains/> accessed 16 November 2022
7 The grant rate in the year ending June 2022 is the highest grant rate in over thirty years (since 82% in 1990, although volumes were lower at the time) (See Home Office stats "How many people do we grant asylum or protection to?", 23 September 2022). Therefore this high overall grant rate constitutes an exception rather than the norm.