How to be a resilient researcher
Posted on: 23 August 2021 by Dr Bengt Tegner (Length: 814 words - Read time: 4 minutes, 6 seconds), updated August 2022 in Blog posts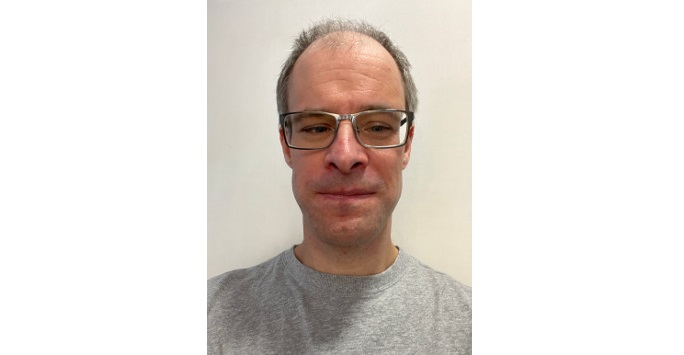 Here are some of my top tips on how to thrive as a researcher under difficult circumstances.
Like many others, I have spent the last 18 months working from home, separated from friends and family.
Find your mental reservoir
This is related to the spoon theory, but I like the metaphor of resilience as a tarn, (an alpine lake), with both sources and drains, which I found in a podcast on mental health for mountain athletes.
Find what makes you happy, what fills your lake
This does not have to be research; in most cases, it probably shouldn't be. As indicated above, I like to play outside, as spending time in the mountains soothes my soul and quiets my mind. Find what works for you.
Find what makes you sad, what drains your lake
This can be both physical and mental, such as injuries, illness, grief, and bereavement. This is not a weakness, but a part of life, and it is important to recognise that.
Find your tribe
Find people to connect with, outside of your specific area of research. This can be anything from sports and hobbies to shared interests. Being part of a community strengthens both you and those around you, even in times of need, so get involved with others! For example, I took a PhD student climbing once a week, to keep them sane when they were writing up their thesis.
Find your fuel
Remember to eat, even when you don't feel like it. One of my go-to recipes for an evening meal is a variant of pasta amatriciana, which is a simple tomato-based sauce that can be prepared in under 30 minutes. Moreover, I like to add a chopped bell pepper to the sauce, for a bit of extra crunch.
Updated – recipe added.
My main inspiration comes from a dish called spaghetti alla puttanesca (https://www.theguardian.com/lifeandstyle/2018/mar/13/puttanesca-sauce-recipe-rachel-roddy), a name with a rather colourful history. Despite its origins, I like the idea of using things out of tins and jars.
Below is my standard version, which serves two
Ingredients
A fistful of spaghetti (about 100g) per person
3 tablespoons olive oil
2 cloves of garlic, sliced
4 anchovy fillets, chopped
1/4 teaspoon of dried chilli flakes
1 tin of peeled plum tomatoes (400g), crushed
A handful of pitted olives (50g), chopped
1 tablespoon capers, rinsed
Warm 3 tablespoons of olive oil in a frying pan and add the sliced garlic, anchovy fillets and chilli flakes. Allow the anchovies to melt and allow the garlic and chilli to flavour the oil, taking care not to burn the garlic.
Pour the tomatoes into a bowl and crush them, using a fork or simply using your hands. Add the tomatoes to the pan, turn up the heat and leave to simmer for about 10 minutes.
Meanwhile, bring a large pot of water to the boil, adding a bit of salt when it is boiling. Cook the pasta according to the instructions, usually about 10 minutes or so. I usually check by tasting the pasta after about 8 minutes.
Finally, add the olives and capers and check the seasoning. I don't tend to add any salt to the sauce, as there is plenty already.
Drain the pasta, mix everything together and serve. If you wish, you can add some parsley or oregano at the end.
Variations
If you don't like anchovies, you can omit them and add a bit of brine from the olives instead. This also makes the sauce vegan.
In the past, I have experimented by adding chunks of tuna or mackerel to the sauce and using fresh chillies instead of dried.
Alternatively, you can use the sauce on its own with white fish like cod.
Moreover, if you have gone overboard with the chillies, try having some milk, or a fruit smoothie, to take some of the heat off. The spicy compound in chillies, capsaicin, is not very water soluble, but it is soluble in fat and sugar.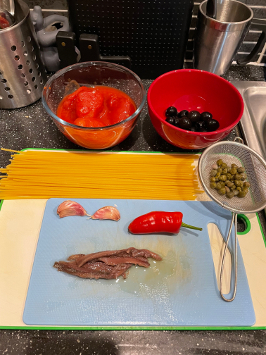 The ingredients laid out on a worktop. Tomatoes, olives, pasta, capers, garlic, chili, and anchovies.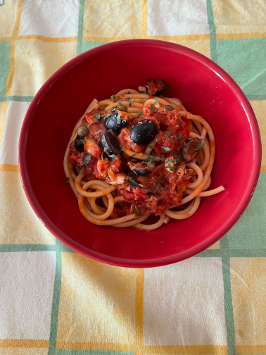 A bowl of pasta with a sauce of mackerel, tomatoes, olives, and capers, with some parsley sprinkled on top. There is a green, white, and yellow tablecloth underneath.
About the author
Dr Bengt Tegner is a Research Associate in Computational Chemistry in the School of Physical Sciences, working in the Rosseinsky group. Previously, he has held postdoctoral roles at Heriot-Watt University in Edinburgh and at The University of Manchester. He has a PhD in physics from the University of Edinburgh and is a former Marie Curie Early Career Researcher. He did his first degree at the University of Gothenburg in Sweden, and originally wanted to be an astronomer. Away from the lab he likes to play outside.
Notifications
To set up an RSS feed for more Researcher blog posts, please copy and paste the below link into your RSS subscriptions area:
https://www.liverpool.ac.uk/researcher/blog/RSS/index.xml
If you have not set up an RSS feed before, please follow the instructions in this RSS Feed Setup Guide.
---