Pathfinder: Adventures in researcher land - 2nd edition
Posted on: 3 December 2021 by Dr Angela Midgley (Length: 309 words - Read time: 1.5 minutes) in Blog posts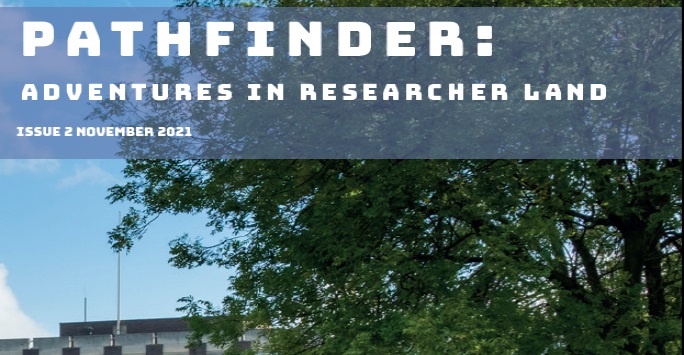 Dr Angela Midgley introduces the second edition of the researcher development newsletter.
For me personally 2021 is flying by, when I sat down to write a blog about the first edition of Pathfinder, spring was approaching and with a bink of an eye Christmas is just around corner.
As an early present 😊 I am delighted to let you know that the second edition of Pathfinder: Adventures in Researcher Land, a dedicated publication for researchers and research related staff across the University of Liverpool has now been published.
This edition of Pathfinder reflects not only on the development opportunities that have taken place during 2021 but the proactive engagement of researchers in moving forward a sustainable positive research culture, that is accessible and inclusive.
The pages are filled with the voices of researchers both at the University of Liverpool and beyond who share their personal experiences of the highs and lows of Tenure Track Fellowships as well as how to achieve a positive work life balance.
A recording of a lunch and learn session on "The good, the bad and the ugly about getting a Tenure Track Fellowship" by the PIs in this article is available.
We hear from colleagues across the UK that worked with Liverpool to deliver a highly successful, well recieved, inclusive and accessible National Postdoc Conference.
You can access many resources from this conference and watch all the sessions.
There is also an article by Dr Eamon Dubaissi, a Research Staff Developer with Prosper who provides insights on how postdocs can get the most out of their time at Liverpool and unlock their own career potential.
We really hope that you enjoy reading the latest edition and we are really excited about working closely with researchers in developing and delivering new opportunities in 2022.
We welcome any contributions or idea's you may have for future issues. Please email theacademy@liverpool.ac.uk or Researcher@liverpool.ac.uk
Read the Pathfinder newsletter
Download the 2nd edition of the Pathfinder Newsletter (PDF, 5MB)
About the author
Dr Angela Midgley is a Research Staff Developer at The Academy at the University of Liverpool. Angela's role involves implementing researcher development initiatives and high quality development activities, which are aimed at cascading effective practice and developing the capabilities of all research staff across all career stages and faculties. Angela also works closely with and supports The Academy's Research Staff Association (UoL RSA) in partnership with UKRSA.
Notifications
To set up an RSS feed for more Researcher blog posts, please copy and paste the below link into your RSS subscriptions area:
https://www.liverpool.ac.uk/researcher/blog/RSS/index.xml
If you have not set up an RSS feed before, please follow the instructions in this RSS Feed Setup Guide.
---