How to conduct effective focus groups in an online environment
Posted on: 16 August 2022 by Dr Claire Wilson (Length: 581 words - Read time: 2 minutes, 51 seconds) in Blog posts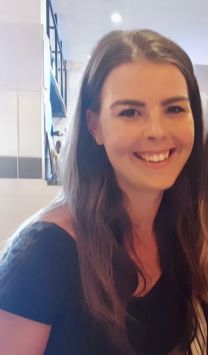 Small focus groups can be an effective way of gaining knowledge and understanding opinions on a specific topic in a short amount of time. The Research Staff Association (RSA) recently conducted a focus group to assess the awareness and access to HR policies and the employee assistance programme at Liverpool. We have hosted several focus groups online since the pandemic and here are some tips and lessons learnt from our experience!
Send a survey beforehand
Along with an invitation to the session, we sent out a survey with specific questions related to the topic. This was a good way to get the target audience view and opinions on the topic before the focus group. As our target audience is research staff, we know it can be hard for them to find time to attend these sessions, so the survey allowed us to get the views of people who were unable to attend the focus group. You can also use surveys to assess if the opinions of topics have changed since actions have been put in place. We compared our answers to those from a survey in 2020 to see if improvements have been made.
Develop questions before the focus group – and remind yourself of what you want from the session!
Before the session, we discuss and plan several key questions we want answering i.e., are you aware of a certain policy (yes/no/NA). However, they don't always have to be yes/no questions. In this focus group based on HR policies and the employee assistance policy not only did we want to know how accessible information is, but we also wanted to ask how this can be improved. Therefore, once the main questions were answered, we were happy for a more open and less-directed discussion to occur.
Use online resources such as Mural to help facilitate discussion
The downside of holding focus groups online is trying to encourage engaging discussions which is much easier face-to-face. We have been using Mural (https://www.mural.co) a digital whiteboard which can be populated in real-time by the whole team. We divide the page into questions and use different methods to gain information. Based on experience, the first question is usually about the individual to help them understand how to use Mural. This can be formal (i.e., how long have you been at the University) or more informal (i.e., where was the last place you visited). People can then drag "post-it" notes to specific boxes or places on a map of the world. For this session, we also included the results of last year's survey and this years to help facilitate discussion. Finally, we have more open-ended questions (i.e., accessing wellbeing resources – your thoughts?) and ask individuals to write longer answers to these questions. While discussions are occurring, it is important to remember to capture the thoughts of others. Therefore, as an organiser of the session you can write your own notes in the specific areas to encompasses the thoughts of the group.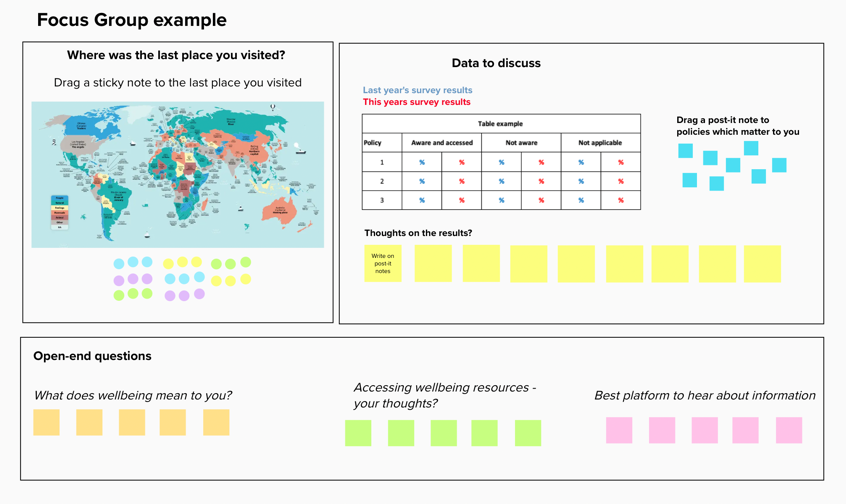 (Above) An example of the ways you can use a Mural board to help discussions. Post-It notes can be used to highlight the last place you visited or to provide ideas with regards to how to improve access to resources.
Make a record of the session
After the focus group has ended it is important to go back to those pre-planned questions and document what you have learnt from the session. We put together a report at the end of the session which includes actions to take forward.
About the author
Dr Claire Wilson is a research associate in the Department of Molecular Physiology & Cell Signalling (Institute of Systems, Molecular & Integrative Biology) and is also one of the co-chairs of the RSA. Claire has been involved in the work related to the concordat and chairs the ISMIB concordat working group.
Notifications
To set up an RSS feed for more Researcher blog posts, please copy and paste the below link into your RSS subscriptions area:
https://www.liverpool.ac.uk/researcher/blog/RSS/index.xml
If you have not set up an RSS feed before, please follow the instructions in this RSS Feed Setup Guide.
---