The Challenge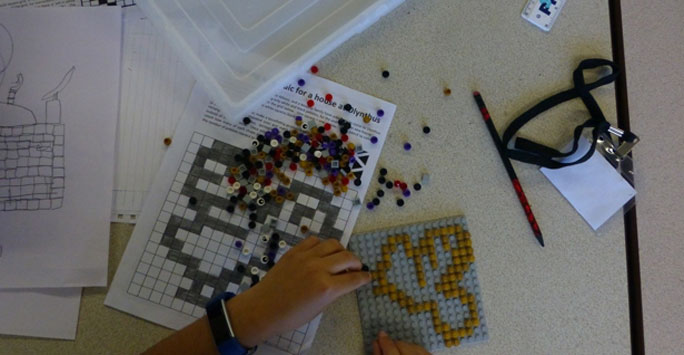 How can teachers inspire their students to learn about daily life in ancient Greece?
Created by Matthew Fitzjohn (Principal Investigator) and supported by Peta Bulmer (PDRA), the aim of the Grand Designs in Ancient Greece project is to create innovative classroom resources for teachers in primary and secondary schools, which inspire pupils to learn about archaeology and domestic life in ancient Greece. The emphasis is firmly on cross-curricular teaching and active hands-on learning.
For example, when they are taught that archaeologists use a grid to record features during an excavation, pupils take measuring tapes into the playground and learn how to set one up themselves, using Pythagoras' Theorem to ensure that their grids are aligned correctly. When pupils are taught about the construction of houses in ancient Greece (which is based on Fitzjohn's extensive research), they build model houses using Lego, and use them to tackle Maths questions about perimeter, area and ratios, and Science questions about the properties of light. Both Maths and Art & Design subjects are covered when pupils learn about the construction of mosaics in ancient Greek houses, and make their own mosaics with Lego. Pupils use their model houses as the setting for stories about life in ancient Greece in their English classes, and use IT to turn them into digital photostories or stop-motion animations, or even recreate them as virtual models.
Research Action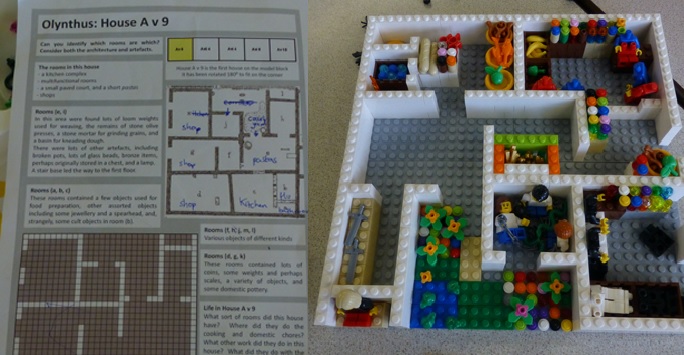 Fitzjohn's research and teaching involves the use of different digital media to think about the past and to create models of ancient Greek houses. In a module he teaches at the University of Liverpool, he encouraged some of his students to use Lego Digital Designer to reconstruct houses. This inspired him to consider the different ways in which Lego and modelling software could be used in schools to teach ancient Greek archaeology.
Fitzjohn is also committed to cross-curricular teaching, because pupils find Arts and STEM subjects more engaging when they are taught together. By offering a range of teaching materials that cross over from History, Geography and English into Science, Information Technology and Mathematics, the Grand Designs in Ancient Greece project aims to put the Arts into STEM teaching, and build up a 'head of STEAM' in our classrooms.
Working in Partnership
Grand designs in Ancient Greece is an Arts and Humanities Research Council funded collaborative research project, between the Department of Archaeology, Classics and Egyptology at the University of Liverpool, and primary and secondary schools in Liverpool, Sheffield, Coventry, Worcester, Brighton and Blackpool.
The partner schools are Liverpool College, Carfield Primary, King Henry VIII School, Kempsey Primary School, Patcham Junior School, Priory School, and Blackpool Sixth Form.
Outputs and Outcomes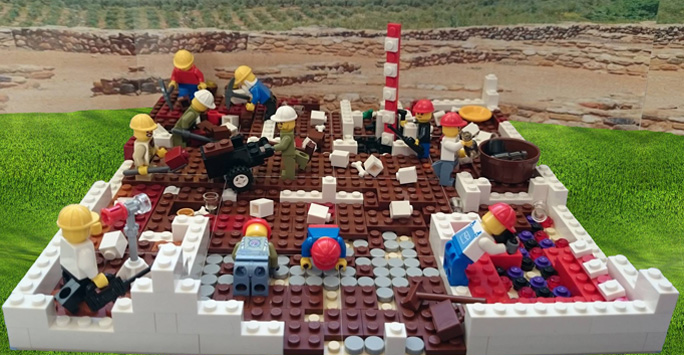 Grand Designs' innovative research-based classroom resources have significantly enhanced curriculum content, and supported non-specialist teachers to deliver inspiring lessons and activities on ancient Greece to hundreds of primary and secondary school pupils across England. This expanded curriculum has significantly lengthened the time that pupils have spent on the topic, and encouraged more of them to take the Classical Civilisation GCSE. Grand Designs' resources have transformed how teachers have addressed prehistoric and historical periods, and also stimulated teachers of other subjects to try hands-on and multimedia approaches in their classrooms.
The use of multimedia teaching and practical activities guarantee that lessons are engaging to students of different ages, abilities, skills and interests. The lesson plans, learning tasks and project reports are now available as online open-access resources, and will have long lasting international impact in primary and secondary education.
I have really enjoyed developing the idea of cross-curricula teaching, where arts and humanities subjects are put together with science, technology, engineering and mathematics (STEM) teaching - to create a STEAM curriculum.

Dr Matthew Fitzjohn