Join us for Experimental Archaeology at Ness Botanic Gardens!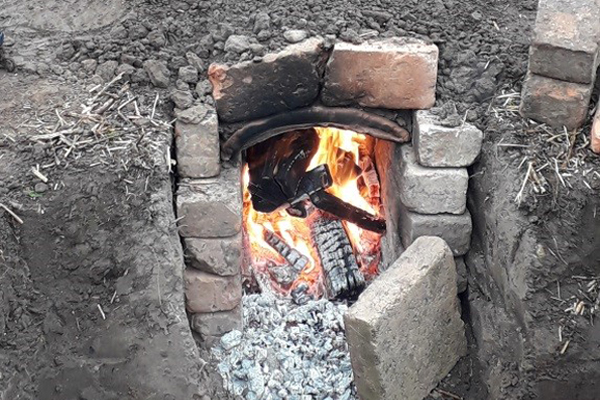 The Department of Archaeology, Classics and Egyptology is constantly pursuing innovative avenues of research. In recent years ACE has focused on developing projects within the field of experimental archaeology. Experimental archaeology is a way of practically testing ancient technologies to understand how they could have actually functioned.
Festival of Archaeology
Further experiments at the site are planned to take place on Sunday 28th July when ACE will take part in the Council for British Archaeology (CBA), Festival of Archaeology. The festival presents a great opportunity for the public to engage with the current experimental projects. Two main demonstrations will be available for public viewing during our experimental archaeology day at Ness. The first being a Bronze Age copper smelting experiment and the second will look at the early use of human fires in the Paleolithic period.
Copper Smelting
The copper smelting experiments will attempt to recreate a simple Bronze Age furnace, known as a bowl furnace. Copper was produced in the Bronze Age by smelting copper ores such as malachite and azurite. Using charcoal as a fuel and leather bellows to introduce air into the furnace, a reducing atmosphere is created. The reduction of copper oxides found in copper ores leads produces metallic copper.
The simple Bronze Age bowl furnace is capable of reaching temperatures in excess of 1200°C can be achieved. When this temperature is maintained for extended periods of time, copper oxides trapped within the malachite ore will be converted to metallic copper and become molten, separating from any unwanted silica materials. The metallic copper collects at the bottom of the furnace and can easily be retrieved upon cooling.
The experimental smelt will provide a better understanding of how these relatively simple furnace structures operated. The desired outcomes of the research being an accurate reconstruction of this ancient metallurgical process, using comparable materials and techniques.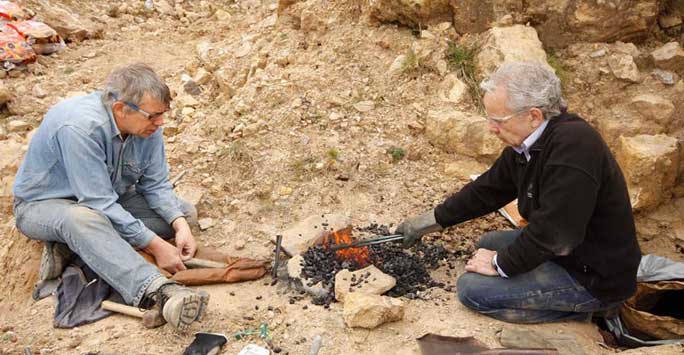 Early Human Fire
The discovery and routine use of fire was a breakthrough social moment in the evolution of early human. On Sunday 28th, experimental demonstrations will look at use of human fire in the Paleolithic. This research project, directed by Sally Hoare, is concerned with determining the circumstances in which natural and human-controlled fire can be distinguished from one another in the archaeological record.
The public can come along and see how a Paleolithic heart operates and understand the types of information that can be obtained from investigating these different layers of material (ash, charcoal and reddened layers) typically found in these pre-historic stuctures. People can investigate thermally altered materials such as lithics and bones, which demonstrate a fire served a functional purpose for early humans. Another functioning heart will be kept burning throughout the day, with data being actively taken at different intervals using dataloggers and thermocouples.
Join ACE at Ness Botanic Gardens on Sunday 28th July 2019 where we will be carrying out the two exciting experimental demonstrations. There will be a range of fun activities and demonstrations on site for all the family to enjoy.
No booking is required for this event.
The experimental archaeology event wil take place on Sunday 28th July 11am - 3pm.