Staff Awards 2023 – Success for SLSJ as winners announced at St George's Hall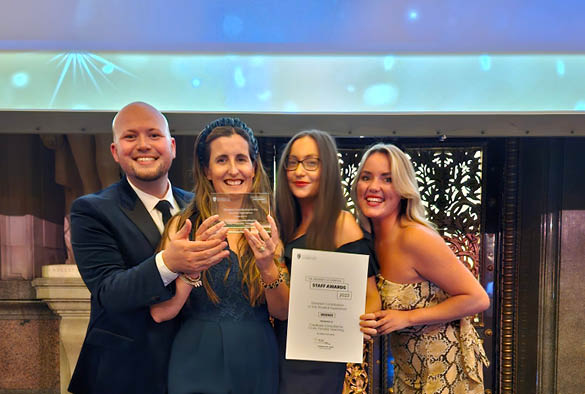 Staff from across the University were recognised at this year's Staff Awards 2023 ceremony, which took place at the historic and stunning venue of St George's Hall in Liverpool.
Around 300 staff attended the event with University of Liverpool alumna, Mairead Smyth, senior reporter and presenter for BBC Northwest Tonight and Politics Northwest, returning to host the evening's awards.
A record number of 527 nominations were received from across the institution, topping the total from last year. Staff were recognised across 18 categories with the Sir Alastair Pilkington Learning and Teaching Awards also presented on the night.
The School of Law and Social Justice celebrated a number of successes with staff taking home awards.
Professor Kanstantsin Dzehtsiarou won the 'Partnership of the Year' award, which recognises individuals and teams who have formed external partnerships that have contributed to: the University's global research and influence, the student experience, student employability, research excellence, or staff and student wellbeing.
Kanstantsin has formed a collaboration between the University's International Law and Human Rights Unit and the Council of Europe and European Court of Human Rights. This is a fantastic opportunity for students and colleagues, the partnership included a three-month internship opportunity for students.
Liverpool Law Clinic were team winners of the new 'Outstanding Contribution to Equality, Diversity and Inclusion in Society' award. The clinic provides free legal advice and representation to those unable to access it elsewhere. Last year it assisted around 450 clients, providing public legal education, representing clients with statelessness, asylum, and refugee family reunion applications.
Dr Gemma Ahearne and Dr Elham Amini, as part of a Cross-Faculty Teaching team involving the School of Law and Social Justice and the School of Engineering, won the award for 'Greatest Contribution to the Student Experience' for their Creative Consultants work.
The team's approach focuses on dissertation modules in different Faculties. Engineering and Social Science students are given three-minute pitches of projects related to developing and implementing an innovative engineering product or system. The module design and delivery identified transferable employability skills, off-site opportunities, and collaboration with global industry partners.
Professor Amel Alghrani won the 'Research Impact of the Year' award for the collaborative project, Ask, Listen, Act. This study focuses on the impact of the pandemic on children with special educational needs and disabilities (SEND) and their education, health, and social care. The study attracted over 1,200 participants, including parents, children with SEND, and professionals. It identified policy priorities to better support children with SEND moving forwards, impacting Government policy and practice.
Vice-Chancellor, Professor Tim Jones, presented the awards and congratulated all those recognised for their hard work and commitment towards the University.
Speaking to colleagues at the awards, the Vice-Chancellor said: "I'm really thrilled to be at my first Staff Awards ceremony. Tonight is all about celebrating you and your incredible work in making the University of Liverpool the world-leading institution it is. Your dedication, expertise, talent, and remarkable commitment is extraordinary"
"A special thank you to everyone who has put time and effort into nominating deserving colleagues and teams. Your participation makes the awards what they are."
Congratulations to all the nominees and winners!