University of Liverpool researchers awarded national Impact Prize for establishing Liverpool's Access to Advice Network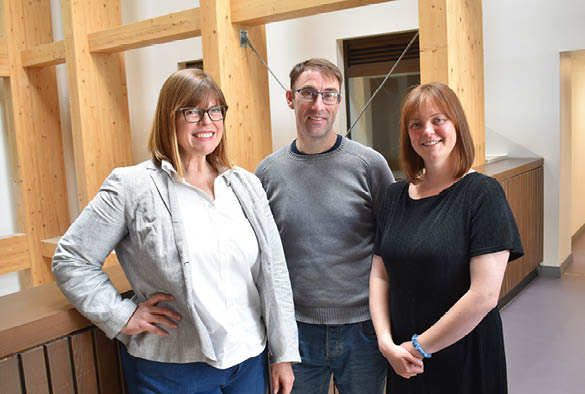 Dr James Organ, Senior Lecturer, and Dr Jennifer Sigafoos, Reader in Law, School of Law and Social Justice, and Dr Sophie Wickham, Institute of Population Health, University of Liverpool were awarded the 1st Annual Impact Prize for establishing Liverpool's Access to Advice Network, at the Socio-Legal Studies Association's (SLSA) Annual Conference 2023. The Annual Impact Prize recognises and celebrates excellence in non-academic impact arising from socio-legal research.
The 'Liverpool Access to Advice Network: No Wrong Door, Free Legal Advice for All', established in conjunction with lead delivery partner, Citizens Advice Liverpool, involves organisations to deliver advice, information, and/or advocacy on Housing, Immigration, Debt, Welfare Benefits, Employment, Educations and Civil issues. The Access to Advice Network hosts regular forums on key issues and coordinates and delivers training and information sessions, with a central focus to improve access to advice and increase access to justice.
Speaking of the award, Dr Jennifer Sigafoos said:
"We are really honoured that the SLSA has recognised our work and that of our lead delivery partner, Citizens Advice Liverpool, as well as partial funders Liverpool City Council. The research team also want to emphasise the exceptional and continuing work of all of the LATAN member organisations in coming together to improve access to justice in Liverpool".
The project aims to mitigate some of the worst impacts of the legal aid and austerity reforms by increasing the effectiveness of remaining services through a stronger referral network in Liverpool, and identify more clearly the issues that the reforms have caused. The resources and knowledge shared and developed in this project has been shown to improve access to justice; help build more sustainable legal advice networks in Liverpool; and ensure that decisions relating to access to justice in Liverpool are made with a strong evidence base to maximise resources, impact, and innovation.
The SLSA annual conference is the UK's leading forum for socio-legal researchers and interdisciplinary researchers with an interest in the law to share ideas and their latest findings. The 2023 conference took place 4-6 April, and was hosted by Ulster University, Derry-Londonderry. The hybrid event welcomed 660 delegates to the Magee Campus and an unlimited number of virtual delegates to share in the experience.
The SLSA has been running an Annual Conference since the association was founded in 1990 in the UK. It grew out of the Socio-Legal Group which for some years had provided an annual forum for socio-legal scholars to meet and disseminate their work. As a UK-registered charity, the SLSA aims 'to advance education and learning in the field of socio-legal studies and to promote research'.
Find out more