An Uphill Struggle: Securing Legal Status for Victims and Survivors of Trafficking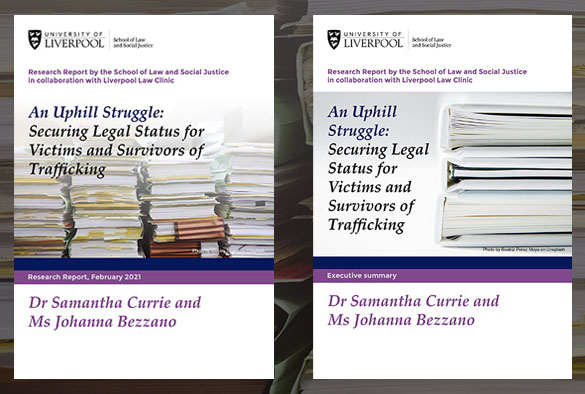 Dr Samantha Currie, Senior Lecturer at Liverpool Law School, and Johanna Bezzano, In-house Solicitor and Lecturer at Liverpool Law Clinic, have published a research report which examines the impact of legal representation on victims and survivors of trafficking.
High quality legal advice can be a crucial gateway to securing formal identification as a victim and, for many, establishing a secure immigration status in the UK. Legal representation can also be important for accessing the full range of support services, engaging with criminal justice processes, and obtaining redress for abuse. Yet, there is a growing recognition that victims and survivors of trafficking and other 'modern slavery' offences often experience difficulties accessing specialist legal advice as to their trafficking and immigration statuses.
The project combined desk-based research with analysis of legal case files relating to clients who were represented as part of the Liverpool Law Clinic anti-trafficking project. A key focus of the research was to analyse the course of the legal interactions between the solicitor acting on behalf of the clients and the Home Office. Engagement with other agencies, such as support providers, legal practitioners and the Courts and Tribunals Service was also examined. The case file analysis was then situated within the context of the law and policy framework and the related research literature.
The project brought to the fore key themes that were reflected not only in the experiences of the clients, but also in the findings of other research projects. These dynamics conspire to make it an uphill struggle for individuals and their legal representatives to secure their legal status in the UK.
It was necessary for the Law Clinic solicitor to disentangle complex immigration histories and intertwining NRM referrals, and to bring evidence to the attention of the Home Office which often adopted an unnecessarily adversarial approach.
There had been missed opportunities to identify and safeguard individuals, particularly when they had been in contact with other professionals in the justice sphere
Previous criminal convictions were having a considerable and lingering impact on victims and survivors, even when it was acknowledged that such criminal activity was a consequence of exploitation. The Home Office continues to prioritise immigration enforcement over protection of victims and survivors. This can have particularly severe consequences for individuals who have criminal convictions.
Cases which involve trafficking or modern slavery issues, interconnected with immigration and/or asylum issues and previous criminal convictions (often directly connected to the client's exploitation), are complex. A time-intensive approach was needed to undertake the necessary but complex case work to address the legal issues and secure victims and survivors' legal status.
The report includes a number of policy recommendations aimed at improving the processes individuals who have experienced trafficking or modern slavery, and the lawyers representing them, must navigate to secure their legal status.
The full research report and executive summary can be accessed and downloaded from the project page.