Ending Childhood Obesity: A Challenge at the Crossroads of International Economic and Human Rights Law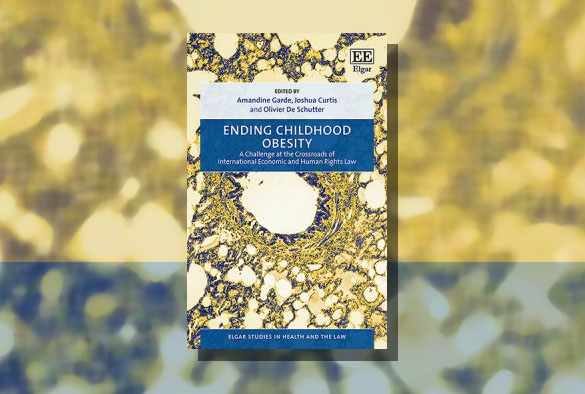 The Law & Non-Communicable Diseases (NCD) Research Unit is delighted to announce the publication of Ending Childhood Obesity: A Challenge at the Crossroads of International Economic and Human Rights Law in the Health and the Law series Edward Elgar launched in 2018.
This edited book is the first to reflect on childhood obesity as a global legal challenge. It calls for a thorough commitment to human rights in the face of an ascendant global agri-food industry. The book makes an original contribution to the discussion on obesity as it considers both international economic law and human rights law perspectives on the issue whilst also examining the relationship between these two bodies of international law.
After highlighting the importance of a human rights-based approach to obesity prevention, this book discusses the relevance of international economic law to the promotion of healthier food environments. It then examines the potential of international human rights law for more effective regulation of the food industry, arguing for better coordination between UN actors and more systematic reliance on human rights tools, including the best interests of the child principle, human rights due diligence processes, and the imposition of extraterritorial obligations. The concluding chapter reflects on recurring themes and the added value of a WHO Framework Convention on Obesity Prevention.
Many members of the Law & NCD Unit have been involved in this project: Amandine Garde and Joshua Curtis have conceived the project and co-edited the book with Olivier De Schutter from the University of Louvain in Belgium. Several colleagues in Liverpool have written chapters for this collection: Nikhil Gokani, Gregory Messenger, Mavluda Sattorova, Seamus Byrne, Joshua Curtis and Amandine Garde. We are immensely grateful to – and proud to be working with - colleagues from beyond the confines of Merseyside – from neighbouring Ireland to the Americas – who have also written chapters in this volume: Caoimhin MacMaolain (Trinity College Dublin), Oliver Bartlett (Maynooth University), Marine Friant-Perrot (University of Nantes), Mette Hartlev and Katharina O'Cathaoir (University of Copenhagen), Wenche Barth-Eide and Asbjorn Eide (University of Oslo), Sarah Roache and Oscar Cabrera (Georgetown University), and Nicole Foster (University of the West Indies).
This book has been written with a broad audience in mind, extending beyond the confines of academia. Since it was established in 2015, the Law & NCD Unit has been mindful of the need to "build legal capacity" – to coin the term used by UN agencies – and has worked closely with many public health actors to try and make legal concepts more readily accessible to non-lawyers and demonstrate how these concepts can be used effectively as tools to promote public health and prevent chronic diseases. We therefore hope that policy actors working to improve nutrition and public health at national, regional or global levels find something of interest in this book.
There is, however, an elephant in the room: COVID-19. We completed the book before the COVID-19 pandemic was in full swing. After careful consideration, we decided not to ask contributors to review their chapters in light of the pandemic at this particularly late stage in the process. Nevertheless, this is not to say that this book is already outdated. Rather the contrary: COVID-19 makes this book more relevant than ever and emphasises its importance. Not only has the pandemic exposed the fragility of health care systems, as States redirect their resources away from the treatment of NCDs. It has also highlighted the urgency of adopting robust NCD prevention strategies, as underlying NCD risk factors, and obesity more specifically, increase the risks of suffering or dying from COVID-19. Nevertheless, this has not prevented many business actors involved in the manufacture and distribution of unhealthy food from engaging in extensive marketing of their goods, services and brands to 'capitalize' on the COVID-19 pandemic. It is increasingly recognised that public health problems fuel each other and create global syndemics with common risk factors. This is why the newly established The Lancet - Chatham House Commission on improving population health post COVID-19 aims to map the shared drivers of pandemic protection, population health, and environmental sustainability in order to identify key actions to drive equitable, sustainable improvements in human and planetary health.
The publication of Ending Childhood Obesity is also particularly timely, as the UK is in the process of negotiating an unprecedented number of Free Trade and Investment Agreements (FTIAs) in record times with the rest of the world, following its departure from the European Union. By offering an analysis of the relationship between trade, health and human rights, this book offers a perspective suggesting that trade and health imperatives can – and indeed must – be reconciled. The Law & NCD Unit has been interested in this relationship for some time. It has already published widely in this field: in particular, Jure Zrilic and Amandine Garde recently edited a Special Issue of the Journal of World Investment and Trade on International Investment Law and NCD Prevention. The Law & NCD Unit is also heavily involved in the interdisciplinary UKPRP-funded PETRA Network, which explores how international trade can improve human health and prevent NCDs.
The growing strengths of the Liverpool Law School in the regulation of NCD risk factors and in international trade and investment law, coupled with its established reputation in international human rights and European Union law, could not have been more timely.
Find out more