The artwork of Dr Frederick Jones to be showcased in prestigious exhibitions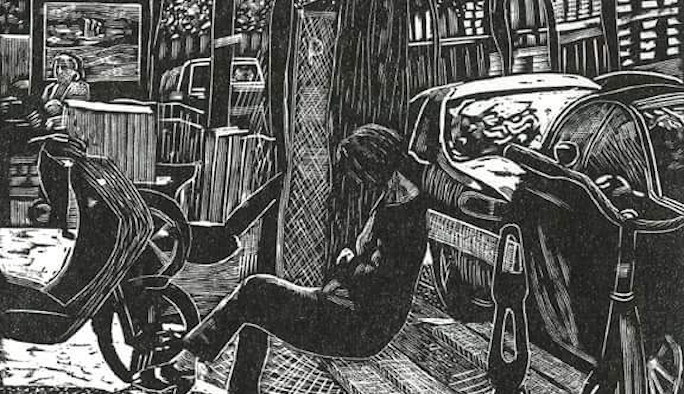 Dr Frederick Jones, Senior Lecturer in the Department of Archaeology, Classics and Egyptology, shares the details of his activity with upcoming art exhibitions.
---
My largest art show yet has now opened (digitially) and goes on until 1st August. It is being hosted by Projectroom2020, which is part of ArtNorthProjects. The gallery showcases art from Scotland and the Far North in six online spaces; it began as a response to the Covid-19 pandemic, but will now be an ongoing exhibition. The magazine Art North (which is likely to feature the show) has been going for about a year and a half now.
Thirty five of my wood engravings and mezzotints are on display and there is a pdf catalogue Textures of Light with an exhibition essay in which I talk about the my artistic orientation and aims, the influences that I am aware of, and the nature of the two media in which I primarily work. One point that I make is that while an individual picture has its own point and validity, there is a sense in which the correct unit of assessment is rather the assemblage or gathering - the accumulation of points of varied fragments of experience creates a composite picture of a larger unity, and so it is very gratifying to be represented with a substantial number of works together.
Towards the end of August, my work will also be highlighted by the Society of Scottish Artists, and I will be giving a recorded Zoom presentation for them with quite a lot of the works on show in Projectroom2020, but some new ones as well.
From the end of this month and through till the beginning of September, I will also be having works on display in real life and online with the RBSA (of which I am an Associate) in Birmingham. This Anniversary show celebrates the 20th year of the RBSA in their current premises. The Society originated at the beginning of the 19th century and achieved Royal status in 1868.
Join the Society of Scotish Artists' Zoom call with Dr Frederick Jones on Monday 20 July at 7pm.
Download the PDF programme Textures of Light by Dr Frederick Jones.