SACE Digging Day at the Williamson Tunnels
Posted on: 17 October 2019 by Megan Clark in 2019 posts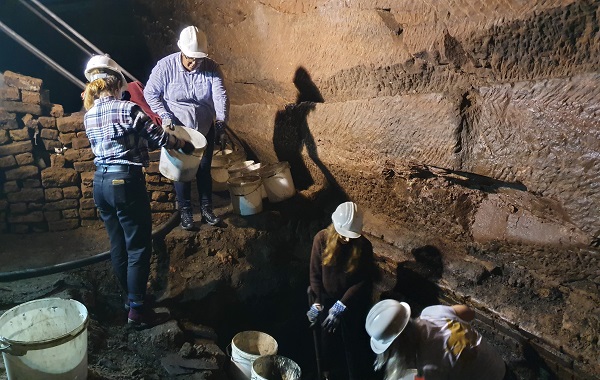 Following their trip to the Williamson Tunnels Heritage Centre, Megan Clark discusses a successful day spent digging by the Society of Archaeology, Classics and Egyptology.
The Society of Archaeology, Classics and Egyptology (SACE) were lucky to be invited to set up a digging day for their students at the Williamson Tunnels Heritage Centre, just off university campus. The Williamson Tunnels are notorious for being the grand project of local merchant and philanthropist Joseph Williamson, although the tunnels' exact functioning is to this day unknown.
Students from the ACE department arrived to the centre at 10.00am where they received a full welcome and briefing, and even a fresh cuppa before digging began. From there, all the students geared up with hard hats, gloves and spades and headed on down the tunnel to investigate further. What met them was the grandeur of the opening to the Williamson Tunnels, a huge cavern like space revealing huge arches which support the foundations of housing above.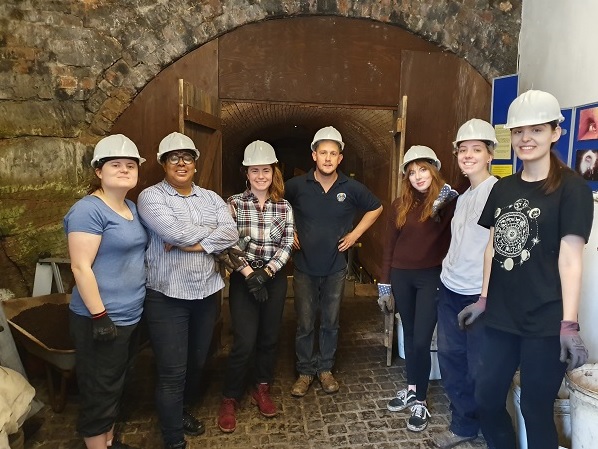 As digging started in a trench close to the entrance of the tunnel, it became clear to students that there was a lot to be found at the site, with every new layer revealing more and more artefacts from centuries ago. Finds from this trench included a few dozen ceramic plate and pot sherds, full size ink wells and pottery vessels, glass bottles and glasses, animal bones, oyster shells (the poor man's staple in the Victorian era), and even a toothbrush made of bone. The team were astounded as to the amount and diverse range of finds on offer, to be able to find intact objects was an especially rare treat.
After digging concluded, students were rewarded with a tour of the tunnels with one of the guides on site. They were delighted with hidden passages, vaulted rooms, and even a kebab-like support structure holding the foundations above.
Overall, the day was a huge success and all of the students returned home with a sense of achievement, wonder, and also a newfound respect for the local history and work of heritage sites in the area. Many are hoping to continue volunteering with the Williamson Tunnels Heritage Centre and encourage any other students who are looking for more archaeological or volunteering experience to sign up to a future SACE digging day.
SACE are currently in the process of setting up regular digging days at the Williamson Tunnels. Get in touch with SACE Liverpool via Facebook, Instagram and Twitter, where you will also hear about all of their latest events.
Discover More
Study in the Department of Archaeology, Classics and Egyptology at the University of Liverpool.
---