Fall of Troy: the legend and the facts
Posted on: 6 March 2018 by Mariacarmela Montesanto in 2018 posts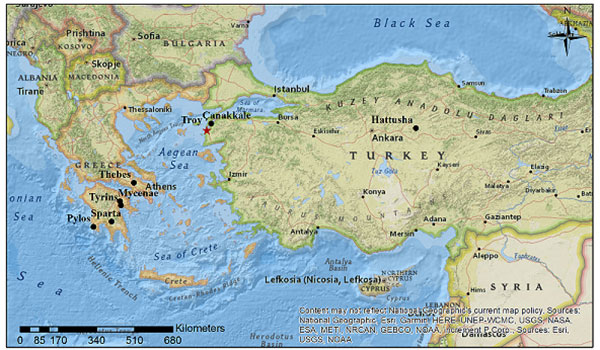 The legendary ancient city of Troy is very much in the limelight this year. A big budget co-production between the BBC and Netflix 'Troy: Fall of a City' recently launched, while Turkey designated 2018 the "Year of Troy" and plans a year of celebration, including the opening of a new museum on the presumed site.
---
So what do we know about the city, ruins of which have been painstakingly excavated over the past 150 years? The television series is set around 1300-1200BC, at the height of the Late Bronze Age. During this period Mycenaean city states based in modern-day Greece were competing with the larger Hittite empire (located in modern-day Turkey) to control the trade routes leading towards the Eastern Mediterranean and the Black Sea.
Troy (in ancient Greek, Ἴλιος or Ilios), was located in western Turkey – not far from the modern city of Canakkale (better known as Gallipoli), at the mouth of the Dardarnelles strait. Its position was crucial in controlling the trade routes towards the Black Sea and, as the Trojan prince Paris mentions to the Spartan king Menelaus in Homer's epic tale, The Iliad, the city controlled access to Indian silks and spices.
The Late Bronze Age was an era of powerful kingdoms and city states, centred around fortified walled palaces. Commerce was based on a complex gift exchange system between the different political states. The trade system was mainly controlled by the kings and evidence referring to private merchants is very rare. These kingdoms exchanged not only silks and spices, but also gold, silver, copper, grain, craftsmanship and slaves.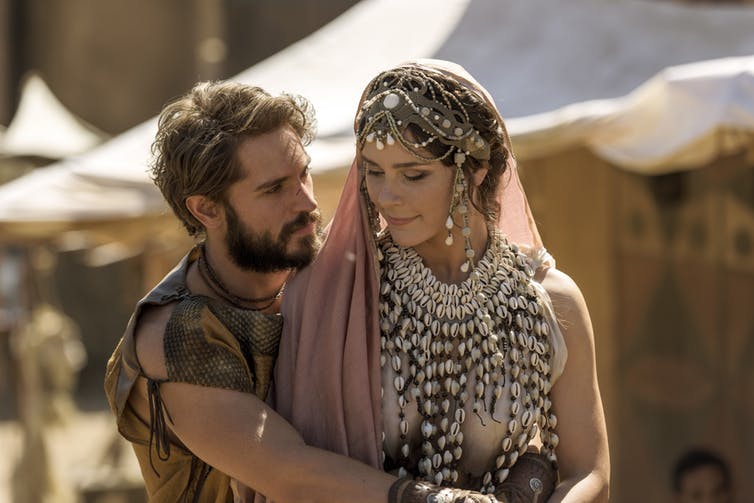 Fatal attraction: Louis Hunter as Paris and Bella Dayne as Helen. Graham Bartholomew/BBC/Wild Mercury Productions‌
What history tells us
More than a century of archaeological and historical research in the eastern Mediterranean basin appears to confirm that there was a war on Troy when Homer says there was. His account centres around the affair between Paris and the Spartan queen Helen, that is said to have triggered the conflict.
But contemporary sources from the Hittite archives in Hattusha tell a different story. Greek kingdoms conducted a number of military campaigns in western Turkey. Hittite records mention raids and mass kidnapping of people to be sold as slaves. There is a record of a peace treaty between Greeks and Hittites over the city of Troy. These records do not in themselves confirm the accuracy of Homer's account – but they suggest that something important happened in the area at some point around 1200BC.
Find out more
This is an excerpt from an article originally published on The Conversation. Read the full article.
View 'Troy: Fall of a City' on BBC iPlayer
Study Archaeology, Classics or Egyptology at the University of Liverpool
---