Archaeology student's 'Ride to the Somme'
Posted on: 27 September 2016 by Digital team in 2016 posts
It's great to hear back from students about what they've been up to over the summer, so we were pleased to get word from Ancient History & Archaeology student Sam Vaughan about his recent cycling odyssey!
After completing an archaeological dig in North Wales as part of his degree, Sam took part in the gruelling 'Ride to the Somme'. Starting in London, Sam rode 200 miles through Belgium and France before cycling back to the UK. Here he tells us more about his extraordinary experience:
I decided to do the Ride to the Somme because it's such a special ride; we were taking the same route that the soldiers in the Army Cycling Corps made 100 years ago, during World War One. It's a very special thing to be able to say 'we were there, we did that'.
Up until my diagnosis with epilepsy nine years ago, joining the armed forces, like my father, uncle, both grandfathers, and great grandfather (who served on the first day of the Somme aged 16) was my dream.
Then I took up cycling because it could get me fit and it gave me the belief that no matter how ill I was, if I put the effort in, it wasn't up to anyone else how good I could be, it was only up to me. I could be just as strong as anyone else.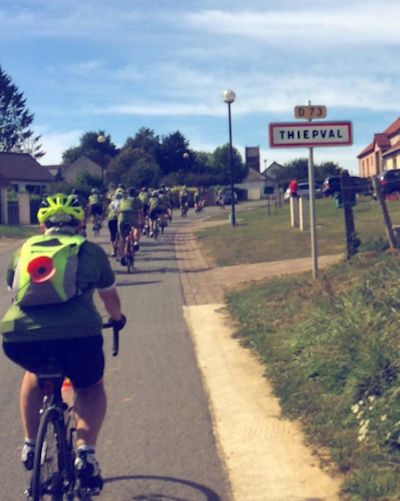 This ride has also been a way to give back to a military charity, to give back to the men, women and families who have given everything they have for us. As a team we've raised about £100,000, of which we are immensely proud.
The experience has been one of the most mentally and physically demanding and difficult experiences of my life, but it has also been the most rewarding. It included my toughest day on the bike, but what I have gained from riding it - and the memories - I shall keep with me forever.
To see the Thiepval memorial after cycling straight off the ferry at Le Havre, was a really special moment. But it also keeps you humble. It makes you remember that; after riding there I don't have to participate in one of the bloodiest battles of the war. We didn't have to ride on heavy steel bikes with rifles and kit. We can talk about riding the same route in the centenary, but we can't claim to have experienced anything like the soldiers' efforts.
Sam has raised nearly £900 for wounded servicemen and their families and is still raising money for SSAFA, the Armed Forces charity. He would welcome your support and you can donate online today.
---