Beyond Subsistence on the Edge of Europe: The material world of pre-Famine County Mayo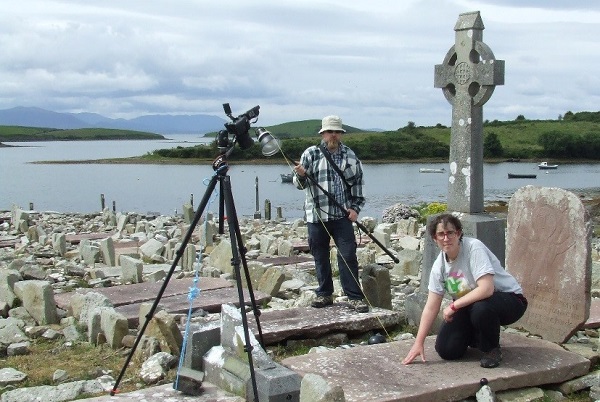 Professor Harold Mytum has joined with Irish historical archaeologist Dr Eve Campbell to undertake a detailed survey of Killeen graveyard in a project supported by a grant from the Royal Irish Academy and with supplementary funding by the University of Liverpool. J R Peterson, School of Histories, Languages and Cultures technician, also took part and provided his expertise in Reflectance Transform Imaging (RTI) to create images which reveal detail not easily recovered through traditional means.
As so much historical and archaeological study has concentrated on the Irish Potato Famine (1845-49) and its aftermath, the complexity of rural life in the decades immediately before this unforeseen catastrophe has been often studied through the lens of these later events. However, funerary monuments can be an important window into the mind sets and practices of individuals often recorded by early 19th-century observers as a Gaelic 'other' that was uneducated, impoverished, and lacking aspiration. The memorials reveal a very different perspective on pre-Famine western Ireland.
Campbell's research to date has challenged the image of pre-Famine communities by focusing on the 19th-century domestic sphere – investigating dwellings and their associated material culture, especially ceramics. Meanwhile Harold's Irish graveyard fieldwork has largely concentrated on the eastern and northern parts of the island, not the far west. This collaboration brings Campbell's regional knowledge with Harold's expertise in memorials and Peterson's in RTI to challenge some of the standard narratives regarding pre-Famine western Ireland.
The graveyard of Killeen lies inside an early medieval stone fort on the northern shores of Clew Bay, County Mayo, and forms part of a historic pilgrimage complex including a holy well dedicated to St Brendan, and recently rebuilt other ritual structures. The ledger memorials date between 1791 and 1847. The most elaborate examples are cut from pink and red sandstones from quarries a short distance away by sea. Ledgers made from the immediately local schist rock are more heavily weathered though portray similar design features; they were less popular than sandstone at Killeen, though more common at the two burial grounds on Achill Island – Kildownet and Slievemore – as well as Burrishoole Friary to the east. Rapid surveys by the team at these graveyards provide context for the detailed Killeen study, confirming a regional tradition but also revealing some variation in memorial choices by each community.
Harold said:
"We are exploring how people often seen by middle class observers of the time as having little access to material culture in fact made their own rational consumer choices in how they invested their disposable income. Whilst many only erected small upright uninscribed slabs, significant numbers commissioned stone ledgers with decoration around the edges of the slab and at the head, and with finely cut lettering giving standardised biographical details of the deceased. These are in a distinctive local style, but they sit within a wider Irish pattern of commemoration to which these communities clearly subscribed".
Eve notes that:
"We have clearly challenged the notion that the whole population prior to the Famine was in a subsistence economy; these memorials been commissioned from professional carvers and indicate a positive relationship with a literate, English-speaking world by those who also maintained their Gaelic culture."
More
Study in the Department of Archaeology, Classics and Egyptology at the University of Liverpool.