Come and join us as we turn rock into metal without the help of Ozzy Osborne! There will be sparks. There will be flames. There will be bellowing. There will also be two interactive discussions where you can ask questions about ancient metals and metallurgy to our panel of expert staff and student.
Explaining the core themes of the event, Pete is effusive:
"If you think about the way technologies develop, the inquisitive nature of our species is really important. Our ability to play, to experiment with the world we inhabit, is what gives us the potential to transform our environment and our societies alike. Copper metallurgy is a great example of this. People in the past didn't know that copper minerals contained metal, we liked them because they were beautiful, brightly colourful in shades of blue and green. These minerals were used to make beads and pigments centuries before the first metal was used and thousands of years before any metal was made.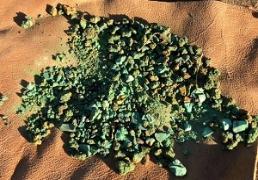 Most archaeologists see the change in our relationship with these minerals— from ornaments to ores— as the direct result of playing with fire. Copper minerals have a remarkable property in that they can dramatically alter the colour of flames, changing them from yellows and oranges, to bright turquoise and green.
This change is frankly magical even when we know how it works, and judging by our continued fascination by fireworks, it would have been irresistible to people in the past. It seems a small step from observing this effect by chance, to deliberately recreating it and from there to the discovery of bright copper formed within the hearth feels almost inevitable.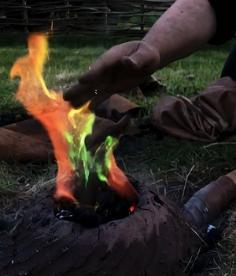 "What is really amazing about all this is that we use the same effect in our laboratories to measure the composition of ancient metals, to ask questions about the choices made in their production and perhaps even to find out where they were made! We are probably wise not to encourage our children to play with fire, but the same inquisitive streak is one of the things that enables us to adapt to our environment, to make new discoveries about the world around us and to investigate the roles of metal in ancient societies around the world"
---
In preparation for the Department of Archaeology Classics and Egyptology's LightNight2021 event about ancient metallurgy: Game of Stones, we've created a series of videos. There is a short, playful look at copper production and some of the main themes to think about.
If you have time, there is also a longer and altogether more restful video to provide you with an immersive smelting soundscape
Live Activity
Have a look, then come and join the chat online on Friday May 2021 at 18.00 or 20.00 — Both sessions will begin with a live discussion between the members of our panel and end with questions via the live chat on YouTube (if you don't have a YouTube account, you can also email questions live or ahead of the event to peter.hommel@liverpool.ac.uk — please use the subject line LightNight18 or LightNight20 depending on the session you are attending/planning to attend).
Warning: Both videos contain flashing images and a fair bit of huffing and puffing. Also, for any kids watching, obviously don't play with fire!
The EARTH (Experimental Archaeology Research and Teaching Hub) has received start-up funding from the University of Liverpool Alumni and Friends Fund. Come and see what we are up to next time you visit Ness Botanic Gardens.
---
LightNight 2021: Play
Friday 21 May 2021
Online and in venues across Liverpool city centre
5pm – late
Free
This event is part of LightNight, Liverpool's free one-night arts festival.
LightNight invites audiences to stay up late, as our museums, galleries and studios throw open their doors to stage a free trail of special events for all ages, exploring the theme of Play.
Over 75 special events will take place in-person and online including hands-on workshops, exhibitions, tours, talks, installations and much more.
Produced by local social enterprise Open Culture, this year's festival explores how Play can offer a space to create, re-imagine and find novel solutions to global problems.
For more information visit lightnightliverpool.co.uk