Mike Packwood: The Chris Mee Travel Award in Greece
Posted on: 22 September 2023 by Mike Packwood in 2023 posts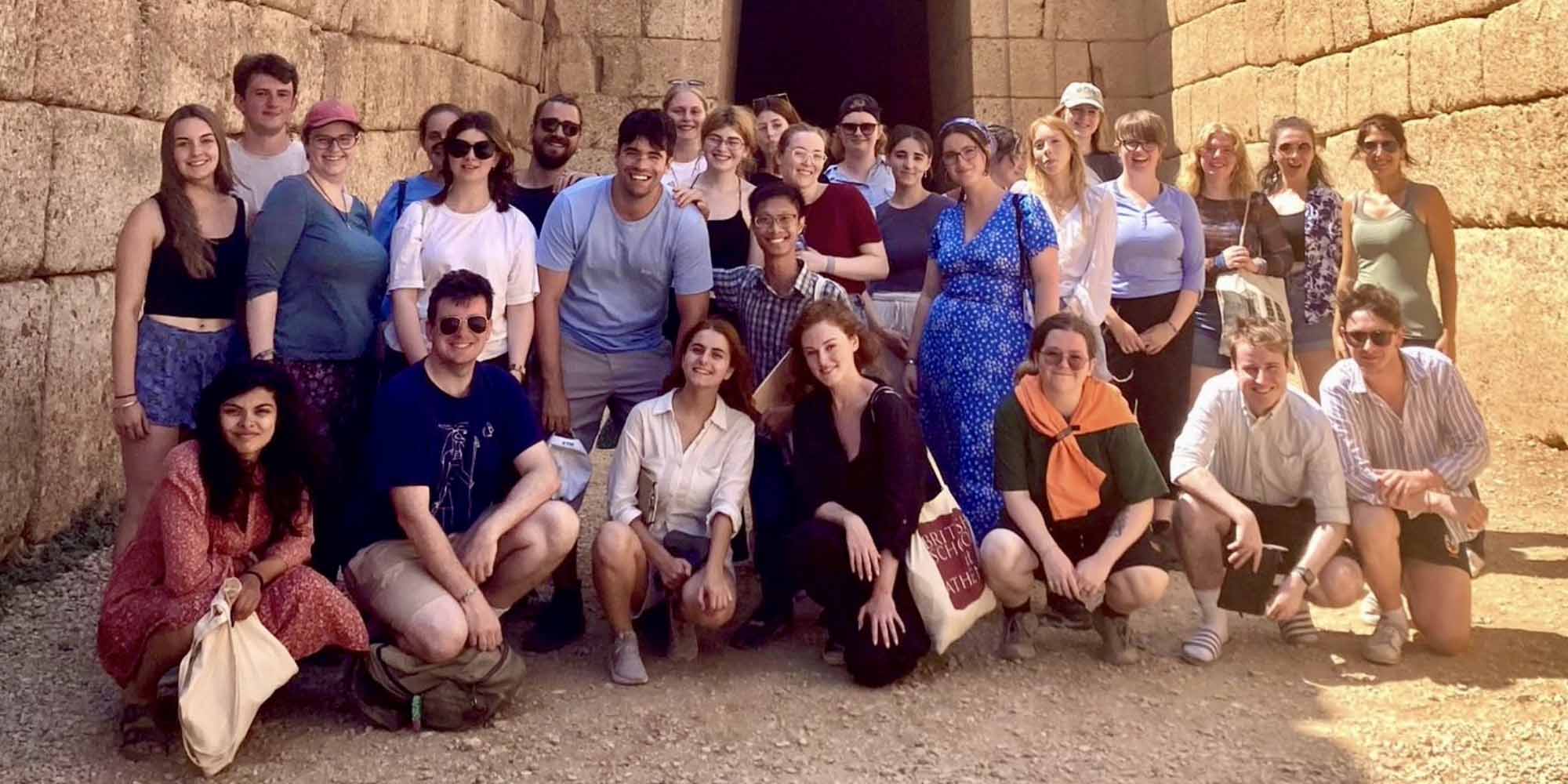 Mike Packwood (Ancient History BA) discusses his summer spent at the British School at Athens (BSA) partaking in the 2023 'Archaeology and Topography of Greece' Undergraduate course, and how it was made possible thanks to the Chris Mee Travel Award.
Travelling across Attica to the Peloponnese, Mike visited 26 museums across over 50 different locations and archaeological sites, completely immersed in history, culture and language. A truly once in a lifetime experience.
Under the incredible teaching of my tutors at the BSA, I studied across the Greek historical timeline beginning with Prehistory, through to Classical, Byzantine, then Early Modern. Key to our learning was to appreciate how multi-temporality is essential in studying ancient monuments today and for our understanding of the political and conservational agenda of how the sites are presented. I was lucky enough to experience a handling session with the BSA Director, Professor Rebecca Sweetman, who discussed how important 'Tactile Learning' is in this field, a concept I believe extends to why the Undergraduate Course is so successful. Every day I was at a new place, receiving lectures on location across hours, able to contextualise the information through the sensory experience of being present, an experience totally different to classroom learning.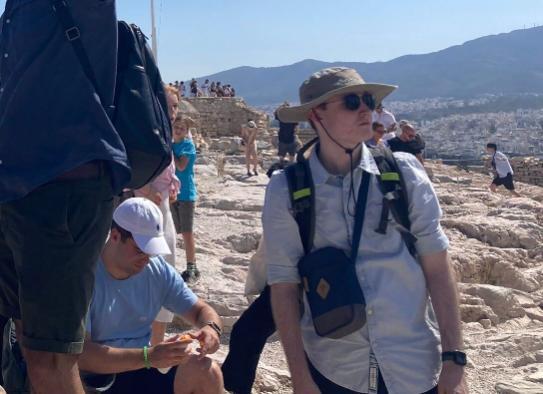 Mike Packwood at the Parthenon, Athens
I travelled across Athens and Attica, experiencing the modern life of Greece alongside the Ancient World, visiting locations such as the Acropolis, Kerameikos, Agora and their amazing museums. I spent my down time in Athens roaming Monastiraki markets and backstreets, eating Gyros from streetside vendors and exchanging jokes with locals. We were treated to a guided tour of the interior of the Parthenon early on, including the present-day reconstruction workshops where I caught a chip of Pentelic marble flying off the mason's chisel. A truly unforgettable experience and insight into the workforce and disciplines needed for conservation.
From Athens to Delphi
At Delphi, I followed the procession and climbed the hills with my friends to overlook the amazing site to Apollo. In Eleusis I experienced 'Tactile Learning' incorporated into the museum, which uses darkness, smoke and sensory deprivation to imitate the activities of the Mysteries, before suddenly unveiling the statue of Hera in bright light and an orchestral crescendo, a truly emotional experience. I witnessed the incredible achievement of Cyclopean Masonry at Tiryns and many Mycenaean sites and was incredibly lucky to see the ongoing archaeological digs at both Pylos and Messene, an amazing insight into excavation practice.
I was most impressed by the Temple of Poseidon at Sounion, a huge temple atop the cliffs of Attica with an impressive Doric colonnade, graffiti and interesting cross-cultural archaeological evidence found within the bothros. My favourite museum was the Benaki Museum of Islamic Art, where I saw beautiful works of art that echoed finds I had seen in Mycenaean graves, representing to me the culmination of a thousand generation's and many cultures' artistic development and improvement.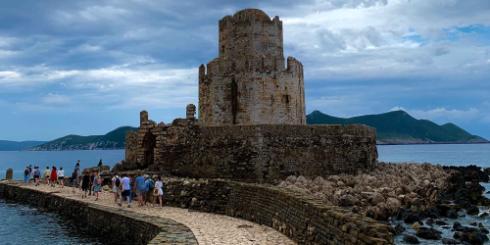 Not only was I totally immersed in learning and research useful for my dissertation and professional knowledge but, thanks to my colleagues and tutors, I also experienced different global cultures. Enjoying food, music, and dance, learning about different languages and histories, all whilst sharing my own Scottish heritage, I feel I gained far more than I ever expected from a course already packed with learning. I was privileged enough to enjoy parts of Greek, Hungarian, Vietnamese, Cuban, Irish, and Italian culture in just 3 weeks.
Experiences and Olympic races
I have experienced so much which I would never had access to in the classroom, been tested by wildfires and flooding, mountain peaks up to 3,000ft, surgery in Athens for a foot injury, raced and placed 3rd at the Olympic Stadium, a 30-hour return journey to my hometown from the Peloponnese, and made memories, friends and valuable connections for life. A true Odyssey.
A thank you
I would like to thank the University and contributors to the Chris Mee Travel Award for making this course accessible and possible for me. A special thanks also to Dr. Alan Greaves, who helped me throughout the application process and wrote a fantastic letter of recommendation.
To all the staff at the BSA in administration, the Librarians, where I spent many a late-night researching, to the tutors in the Fitch Laboratory, the Sherd Storage and Archives who provided me great insight into different aspects of this field as a career, and the amazing cleaning and gardening staff, thank you for everything.
A special acknowledgement to my tutors: Dr. Georgios Mouratidis, Dr. Luara Magno, Dr. Rossana Valente, and Dr. Tulsi Parikh. To each of you for sharing your research, experience, and time, thank you.
Finally, to my family. Your constant belief in me has allowed me to study in such an exciting field and opened countless doors for me my entire life. Thank you.
---