Exploring Historic Mortuary Culture - Part two
Posted on: 22 December 2022 by Eloise Burwood and Naomi Dark in 2022 posts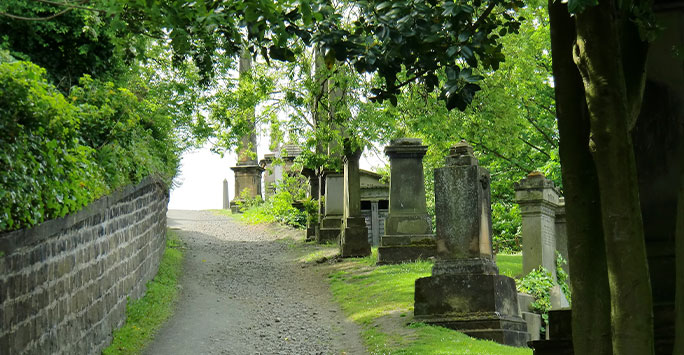 This is the second part of Eloise and Naomi Dark's report on their Graduate Internship Scheme placements.
Once back at the University, Eloise took all the measurements from the crypt and drew them up on autoCAD. Due to the cramped conditions of the crypt, we had to take measurements diagonally in a few cases, and this was much harder to translate on CAD. The solution here was circles - many circles. Using the radius of a circle, drawn from a known point, I could find what arc the next would be on. Repeat from a few different points and you can find a place where they intersect. The drawing by this stage became more circles than straight lines, but it got results. The moment of truth came when we took the drawing based on tape measurements, and lined this up with the part mapped using TST, and it all lined up! This was then used to make a plan for our project publication.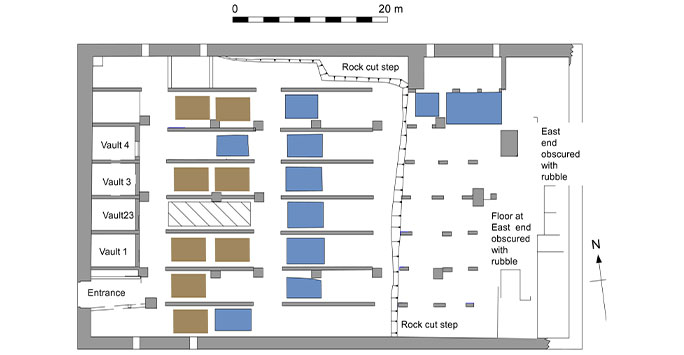 This experience was useful for when we got to surveying the exterior of the church. We felt more prepared for this task - using both TST and tape measures to ensure no inch was left unrecorded. We returned with countless hand-drawn plans as well as the data from the TST ready to create a final plan. Despite covering a larger area, our detailed recordings made drawing the exterior of the church a breeze in comparison to the crypt. It was here that we realised how much we had progressed from when we started.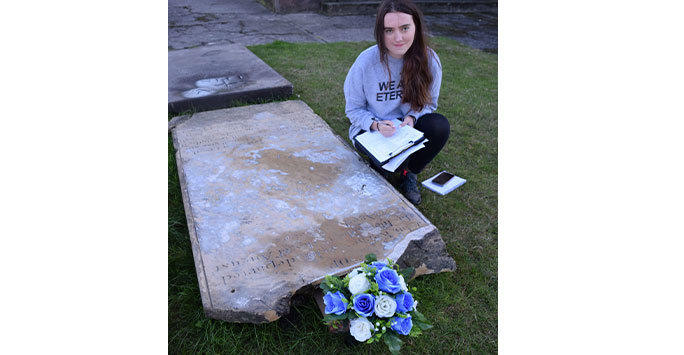 Naomi records a memorial uncovered by parish volunteers
During another visit to St Patrick's, we recorded the memorials, including ones that had been buried during a reorganisation of the churchyard and recently unearthed by the volunteers. We were also tasked with interviewing members of the Church who have been involved with various aspects of the conservation and research at the church and churchyard. In total we were able to interview 5 individuals who all conveyed their enthusiasm and love for the heritage of St Patrick's. Each interview was around 8 minutes long and were held individually in the Church. We really enjoyed witnessing how passionate these individuals feel about the Church, demonstrating how important heritage work is not only to archaeologists but also to the wider community.
Broadgreen Jewish cemetery memorials
This internship has not all been so high tech - it was enjoyable to go back to field archaeology at Broadgreen cemetery, armed with mattocks and trowels and ready to break ground. A lot of work had already been done the previous summer during the undergraduate field training in uncovering these headstones, so our main job was recording what we could and cleaning up any headstones that were still partially buried as where they had been laid down had become overgrown and soil had built up on some of them.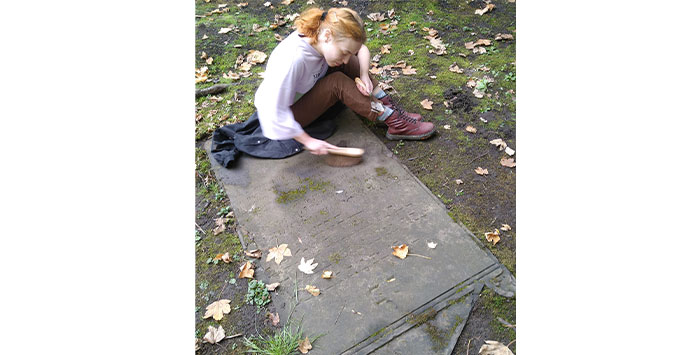 Eloise cleans a memorial before recording it
Naomi was then able to conduct work with Reflectance Transformation Imaging (RTI) on the headstones. This uses a camera mounted on a tripod and a hand-held flash that was synchronised with the camera, allowing numerous photos from many angles to be taken. These images will later be used in the lab in order to analyse the surfaces of the headstones in further detail. These memorials are important as they are the oldest surviving Jewish memorials in Liverpool, having been moved from disused burial grounds in the centre of Liverpool prior to their redevelopment during the early 20th century.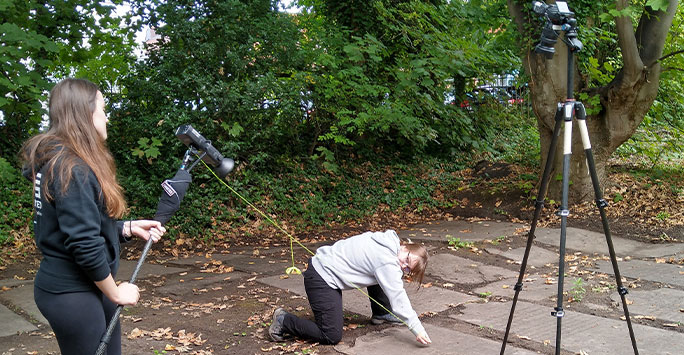 Naomi and Sarah take photos for RTI processing
Naomi was also introduced to photogrammetry as she assisted with taking wide lens photos of the entire area of which the headstones are situated. These photos will be processed and stitched together in order to make one image which can then be displayed under varied lighting conditions.
Conclusion
There was an immense amount of satisfaction to see an ever growing google drive folder, a testament to what we have achieved over the past few weeks, and knowing how useful our work has been for those we have shared it with. We have come away with some very desirable skills for a future in Archaeology, and got to see first-hand how this job can benefit the local community. We also helped in disseminating the work at St. Patricks at a Being Human Festival event, and being co-authors of an open-access article in the international peer-reviewed journal, Heritage, about the St. Patrick's project with images based on our drawings and using our volunteer interviews.
Mytum, H, Philpott, R, Fairley Nielsson, A., Burwood, E. and Dark, N. 'Collaborating with the Community: Applying Non-Invasive Archaeological Methods in the Crypt and Churchyard of St Patrick's Roman Catholic Church, Toxteth, Liverpool'. Heritage 2022, 5(4), 3298-3315;
Find out more about research in the Department of Archaeology, Classics and Egypytology here.
---