Q&A: The Society for Archaeology, Classics and Egyptology (SACE)
Posted on: 17 September 2019 in 2019 posts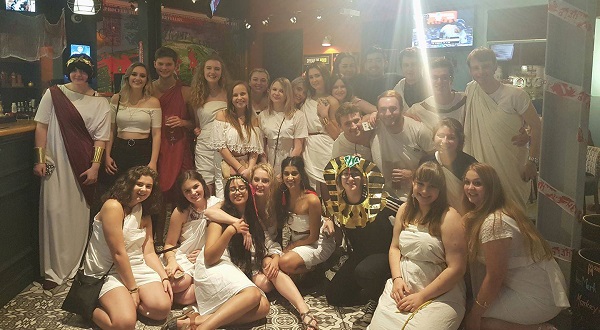 With Welcome Week now upon us, students may be looking to join societies and make new friends with similar interests. With this in mind we spoke with SACE, the Society for Archaeology, Classics and Egyptology at the University of Liverpool, to find out what the society has to offer.
SACE exists to form a social group for students the department, but also to provide a society for anyone in the University who is interested in learning more about Archaeology, Classics and Egyptology. The committee this year consists of students at different levels from across many subjects within the department, including Ancient History, Archaeology, Classical Studies and Egyptology, and they accept members from across the entire student community.
Introduce us to SACE: how would you describe the society?
We'd say in one word: passionate. We all love our subject and this shows through our constant organisation of events both social and academic which we hope inspires our other coursemates in their love for all things ancient and historical. We work closely with lecturers and staff to bring the most diverse and interesting talks and workshops, and our social secretaries follow the mantra 'work hard play hard'. They are very keen to show the freshers all the events that we have organised for the coming year.
What activities do you get involved with during the academic year?
We have so many it may blow your mind, so we'll not list them all now! We like to think we're equally academic and social. Our academic events will include: 'Meet the Faculty', a series of informal meetings with Postgraduates to learn about their research; many pub quizzes; museum store tours, skills workshops and evening talks. Socially, you're in for a whirlwind: our infamous scribble bar crawl night and toga nights; perhaps even a foam party or Sumerian cooking classes, we like to keep things fresh and offer new experiences to our members.
How can new students join the society? Can students who study outside of the ACE department join?
First come see us at the Welcome Fair, we promise we're very friendly and helpful as we know exactly what it's like to be new to the university. By following us on social media you can easily keep up to date on what we have going on, and buying a paid membership allows you to attend as many events as you like throughout the year. We keep our membership fees low at £4.00 per academic year as we are an inclusive group who want to spread our shared interests far and wide. We welcome students from any department within the university; the society is not just here for the ACE department but also to discuss the work and interests of our department across the university.
What does SACE have planned during Welcome Week and how do I get in touch?
Find us at the Guild Freshers Fair in Mountford Hall on Friday 20 September 9am-4pm to pick up a flyer for all of our events, which includes but is not limited to: a Welcome BBQ; Scribble Bar Crawl and pub quiz. Follow us on Twitter, Instagram and Facebook to see all the details and dates. SACEBOOK is our private Facebook page for members, and SACE Liverpool is our public page. We also have our own email address at sace@society.liverpoolguild.org if you would prefer to drop us an email.
Discover more
Study in the Department of Archaeology, Classics and Egyptology at the University of Liverpool
---