Brownies Dig the Dirt on Archaeology
Posted on: 4 December 2019 by Zoë Grimshaw in 2019 posts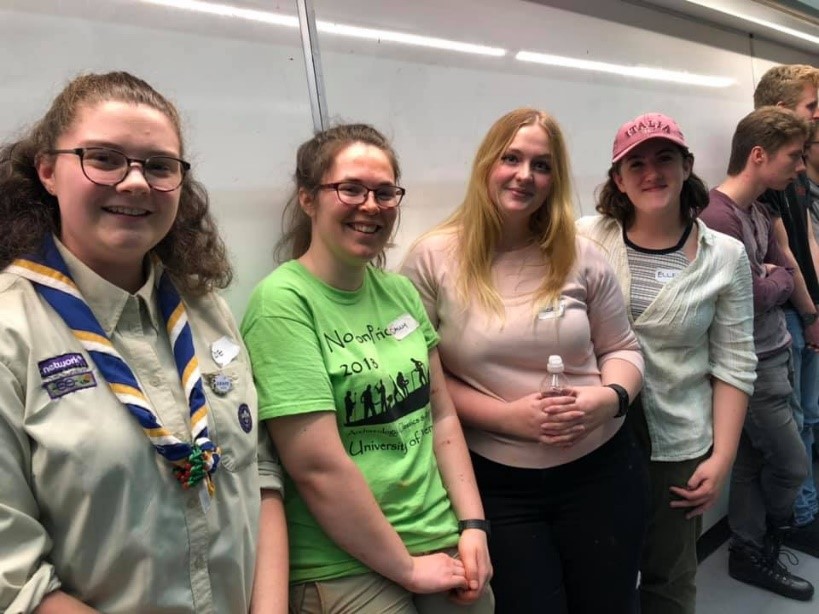 Our Archaeology students welcomed a local Brownie group to learn all things Archaeology for the Science Jamboree with Merseyside Scouts.
Every year, the university hosts the Science Jamboree for Merseyside Scouts and Guides. This is an event aimed at Beavers, Cubs, Rainbows, and Brownies. It's an opportunity for them to earn a variety of science badges which are taught by students of the university. This year over 500 young people attended, earning at least 2-3 badges each.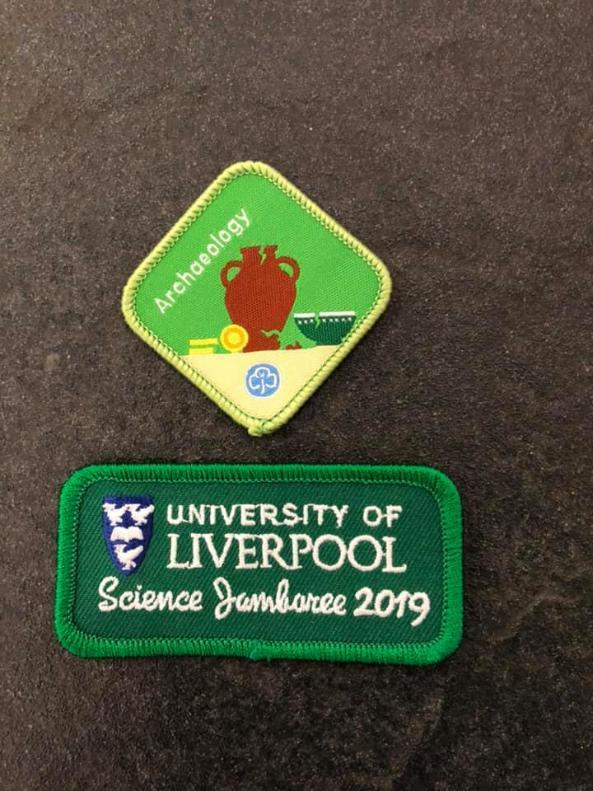 For the second year, ACE students have helped deliver the archaeology badge for the Brownies. Last year was the first year we were able to offer this, since the new badge was announced. Third year Archaeologists Ellen, Georgia, and Sally got involved, as well as myself; a third year Egyptologist. In order for the young people to get their badge we ran 5 sessions throughout the day, meeting 150 brownies and participating in some brilliant mini archaeology!
Georgia and Sally ran an activity where they taught the Brownies what cave painting was, and then let them have a go! Firstly, they drew and then cut out their own versions of a cave painting to create a stencil. Then using the stencil painted their ideas on the cave wall! The Brownies made full use of the ochre and not only decorated the wall, but themselves, and the floor! They loved getting stuck in, and left creative markings on the cave wall.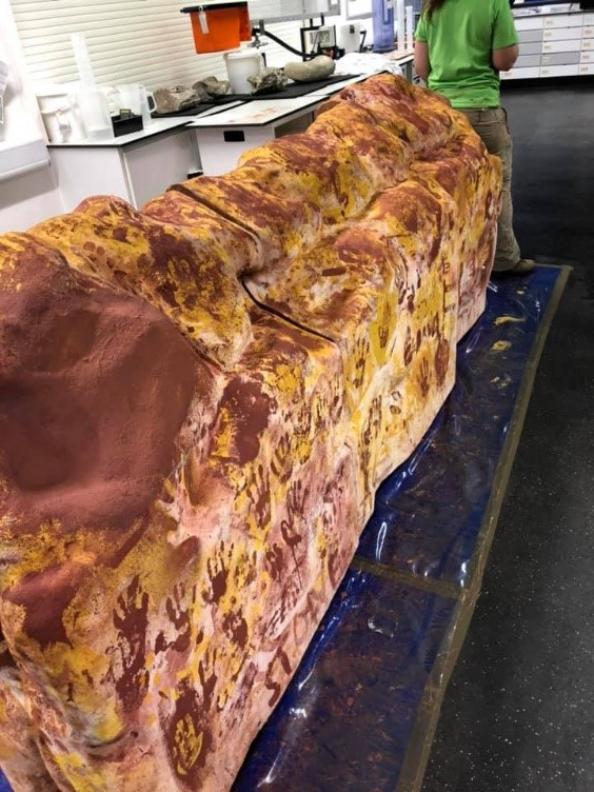 The second archaeology session was delivered by Ell and I, for this session Ell became 'Archaeology Ellen' and the Brownies loved her character and meeting a real Archaeologist! They were introduced to Terry the Trowel and everything in an Archaeologists tool kit as well as what they could find at a dig site. Each small group excavated a mini dig tray filled with different (fake) artefacts. Every tray represented a different country and was filled with the different types of artefacts you could find. The Brownies has fun uncovering everything from pottery to bones, to gemstones and Lego! After their excavation, they reburied the artefacts for the next group to find, as well as burying a drawing of what they wanted people in the future to know about them. Everything from pets to pizza was buried, and even treasure! The brownies then discussed what they had found and why Archaeology was important before having a Q&A session about Archaeology and Egyptology.
As a thank you, all student participants receive a University of Liverpool Science Jamboree badge, but the archaeologists also received the badge they delivered for the young people!
If you think this event sounded interesting and fun, get involved next year! We always need helpers to deliver exciting days like this and encourage the next generation of young archaeologists! You don't need any scouting or guiding background, just a passion for your subject! Information about SciJam2020 will be released next September, but in the meantime, email scijam@liv.ac.uk if you'd like to hear more about what we do.
Discover more
Study in the Department of Archaeology, Classics and Egyptology
Keywords: Archaeology, Science, Classics, Egyptology, Student, Study, Liverpool, Brownies, Equality, Diversity and Inclusion, Discover.
---