Using modern technology to model ancient worlds
Posted on: 12 March 2018 by Ardern Hulme-Beaman in 2018 posts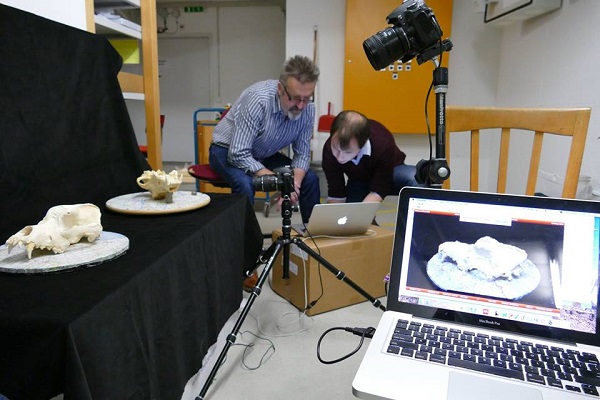 Would 3D digital objects help your project? Could you analyse aspects of your sites or objects in a new way by quantifying it in 3D space? Could you draw more people to interact with your work by engaging with them through a digital medium? Ardern Hulme-Beaman discusses how photogrammetry is revolutionising the work of our academics, and how you can learn more about this innovative technique.
---
A number of researchers and teams in the department have been using 3D photogrammetry in a number of different ways for the last few years. We've started a small research working group (for discussions, working through applications and understanding new methods) to combine our shared knowledge of building 3D environments and objects, and to discuss future potential for this in individual and departmental projects.
The basic principle of photogrammetry is to build a 3D model of the object (or even landscape) we're interested in from 2D photographs. This can be used in as many ways you can imagine (digital worlds, 3D video games of our sites or even sending and 3D printing our objects for teaching purposes to other people).
In a world where almost all of us are digitally interacting and connected, this is an increasingly important way we can engage with each other and other audiences. By first introducing them quickly and easily to our work through this digital medium we can entice people to come to our museums and sites, or to interact with objects we find and analyse.
From a research perspective, photogrammetry provides a useful resource for understanding the landscape we're excavating, recording the excavation contexts, or even doing detailed shape analyses on objects or bones recovered from archaeological contexts.
Here are a few projects members of the department have been working on:
Dogs
Carly Ameen, Keith Dobney and I have been working extensively with photogrammetry to track morphological changes in dog skulls for the NERC "Deciphering Dog Domestication" project. We collected hundreds of dog and wolf specimens for this project using photogrammetry. This meant we could take the photos in a museum collection and then later we could continue to take accurate measurements from digital reconstructions months after we left. The ability of photogrammetry to accurately map the colour patterns onto the 3D model is particularly useful for us when we're trying to identify the placement of certain measurements on otherwise morphologically flat locations (such as where multiple bones have fused).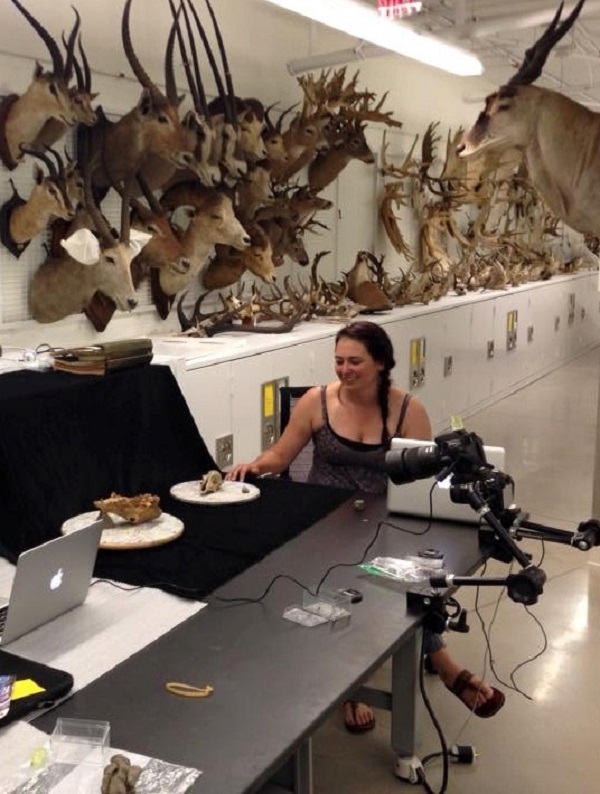 Carly Ameen
Humans
Kimberly Plomp has recently embarked on a project examining Viking voyages and translocated populations (learn more about Kimberly's research here) and she's using photogrammetry in a similar way to the dog project (but on humans!). She's hoping to track similarities in crania shape between populations in Scandinavia, Scotland and Ireland to see which populations (in what proportions) have been translocated.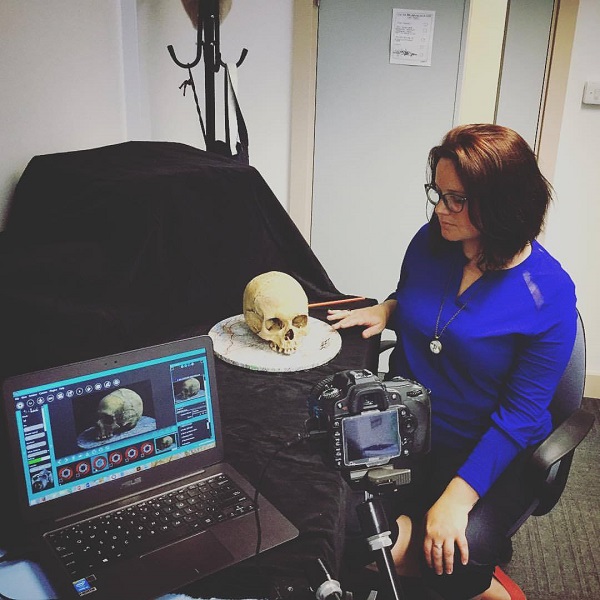 Kimberly Plomp
Architecture
JR Peterson, Nick Webb and Alex Buchanan are tirelessly recording every nook and cranny of the high vaulted ceilings of Cathedrals (among other buildings) with a battery of 3D scanning and building methods. Photogrammetry is one among them (by far the cheapest! A major benefit it has over the other methods). In addition to the speed of photogrammetry, its ability to perform a full colour rendering of the surfaces from all angles makes the technique one of their preferred methods for building 3D models of the buildings that could potentially then be experienced in a full digital 3D experience.
Timelapse of JR Peterson capturing a model of St Mary's Church, Nantwich, using photogrammetry techniques.
Liverpool Archaeology Field School and Excavation
JR has also been working on imaging the Penycloddiau excavation with Rachel Pope to render it into 3D environments using photogrammetry to record the removal of contexts and understand the excavation better. The potential for understanding this hillfort site post excavation could be great. Future excavations could even be explored by students and others in a 3D rendered game-like environment.
Automated turntable
PalaeoPi, a new small startup run by Richard Allen and operating out of Oxford, has provided us with a number of its first prototypes for automating the photographing process that we then build these models from. Kim's got the first company prototype and will be travelling NW Europe with it to gather her data. This speeds up the photographing time considerably (by around about 70%, which is important when multiple samples and good sample sizes are required!).
Meetings
In the coming weeks we want to rally together anyone interested in coming down to these discussion groups. We'll try to play with some photogrammetry constructed models and discuss objects which are difficult to scan. We can also discuss any ideas of building 3D environments accessible online for anyone who wishes to display these things online.
If you're interested (student or staff!) contact JR (J.R.Peterson@liverpool.ac.uk) and/or me (A.Hulme-Beaman@liverpool.ac.uk)
Discover more
Study Archaeology, Classics or Egyptology at the University of Liverpool
---