New texts from an old site: discoveries from the September 2018 season at the Hatnub alabaster quarries
Posted on: 9 October 2018 by Roland Enmarch in 2018 posts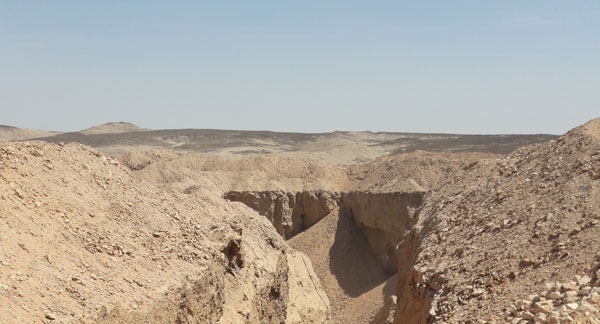 Roland Enmarch is Senior Lecturer in Egyptology at the University of Liverpool and co-director of the Anglo-French Hatnub Survey / Mission de Hatnoub, along with Dr. Yannis Gourdon (IFAO). In this blog, Roland provides an overview of his visit to Hatnub, Egypt, examining the ancient inscriptions in the site's alabaster quarries.
Since 2012, the Hatnub Survey (co-directed by myself and Dr. Yannis Gourdon) has set out to fully document the surviving inscriptions at the Hatnub alabaster quarries, in the desert of Middle Egypt c. 20 km south-east of Amarna. Since the site's discovery in 1891, these texts have featured regularly in discussions of Old and Middle Kingdom history, but (prior to our work) no detailed survey of them had been made since the one by Georg Möller in 1907, the results of which were published by Rudolf Anthes in 1928.
Many of the Hatnub texts are executed in red pigment, applied directly to the minimally treated rock surface of the walls of the quarry. The fading of the red, and the patination and unevenness of the background rock, make reading these texts difficult. However, digital technology has come to our aid in enhancing the colours of the texts, and we have been able not only to identify further unpublished sections of some of the long-known texts, but also to find and read many previously unknown or illegible texts. Indeed, in total from Quarry P we have so far identified over 100 'new' images and texts, some of which are quite lengthy.
We had a documentary film company come film us on site this year.
In our September 2018 season, we have continued to clear areas of the quarry previously investigated by Möller (finding more of his 1907 trash in the process!), revealing over a dozen previously unknown graffiti (mostly badly damaged). We have also continued to find several rough-stone 'stelae' with red ink images and hieratic text. Clearance of debris in the quarry's descending entryway revealed, towards the top, a double flight of rock-cut steps on either side of a haulage ramp. A further 3.5m deep sondage towards the bottom of the entryway (underneath one of the inscriptions from the time of Khufu) demonstrates that a flight of steps continues down to this point at least. The complex patterns of post-holes in the rock-cut steps of the entryway offer potential for reconstructing Old Kingdom stone haulage methods. An area of New Kingdom stone working was also identified at the top of the entryway. A large inventory of locally-sourced rough limestone tools used to work the alabaster was identified and studied. Experimental archaeology has provided numerous insights into the processes of creating alabaster vessels.

In Georg Möller's footsteps: we found fragments of the trash he left here in 1907!
Much work remains to be done at Hatnub. Quarry P is encumbered with large amounts of rubble, much of which has fallen back into it from the surrounding ancient spoil heaps. It is possible that further texts and images remain to be discovered under the rubble, and we hope to test this hypothesis on a small scale in future seasons.
Discover more
---